A few years ago, I won a giveaway at the end of the first Blend Retreat for a product I had never heard of. It sat in my pantry for almost a year, traveling cross-country with us when we moved from Atlanta to Denver. Finally, I decided to try a recipe that called for stevia and I decided to give it a try. I was very pleasantly surprised to find the NuNaturals stevia was delicious! Don't miss the awesome giveaway at the bottom of this post, which is open to readers worldwide!!
Disclosure: I received stevia from NuNaturals, as well the giveaway prizes. As always, all opinions are my own and I only share things that I would recommend to my friends and family. You can read my disclosure policy here.
Why Did It Take So Long To Try?
I've been very leery of sugar substitutes over the years, which was the source of my hesitancy. There have been far too many times that sugar substitutes are labeled as safe, only to find out that they have very unsavory side effects. Although I knew stevia came from a plant, I was still unsure how pure it was.
After hearing glowing reviews from many of my friends, I did a little research. I learned that it's been used in Japan since the 70s as a sweetener, although it didn't come to the US until 2008. It comes from the stevia plan, which comes from the sunflower family. The extract comes naturally form the plant, although it can be a bit bitter at times. What I like about the NuNaturals brand, is I don't notice any bitter taste!
How do I Use Stevia?
I have shared many recipes over the past year that are sweetened with liquid stevia. You may not know that I use NuNaturals brand in all my recipe creations. Stevia doesn't spike your blood sugar in the same way as cane sugar, so it's something I reach for in most cases for sweetening. Check out a few of my recipes below to get a few ideas:
Vanilla Spice Streusel Pudding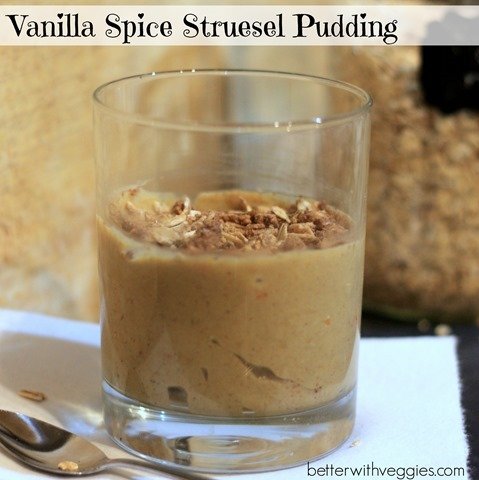 Ready to Give Stevia A Try?
I have two great ways for you to try NuNaturals stevia today! Whether it's your first order or you're a frequent customer, you can save 15% off your entire order at NuNaturals with the code "BLG0614". This discount will be active through June 30, 2014, so you have plenty of time to try and then reorder your favorite flavors! Online order customers also get FREE SHIPPING to the Continental US on all orders over $35.00 after discounts.
If you're feeling lucky, you can also enter to win an awesome package of goodies from my friends at NuNaturals. FOUR (4) winners will win one bottle each of Lemon, Cherry Vanilla, and Peppermint flavored Stevia Liquids, PLUS a 50 packet box of NuStevia White Stevia Powder packets. A pretty sweet prize (cheesy pun-intended), don't you think?! This giveaway is open to readers worldwide (!!) and will remain open through next Tuesday, April 1st.
You can find NuNaturals online on their website, facebook, and twitter. Show them a little love for these awesome prizes and discount!