There's a reason I rarely do weekly food roundup recently. I am typically crazy busy during the day and I eat my meals out of tupperware. If I remember to take a photo, it's not one that I have time style or look for good lighting. It's snap and go.
So please forgive these photos of my food from Monday…
I did warn you, right? 🙂
Let me decipher what you're seeing in the photo explosion above, including some protein counts that I'm doing for myself this week. Note: I didn't include my vitamins and supplements in this recap, unless they are mixed into a meal.
Meal 1 – Pre-Workout
I've been starting my morning before a workout the same way  almost every day – a serving of Fitmixer Aminos & half a banana with peanut butter.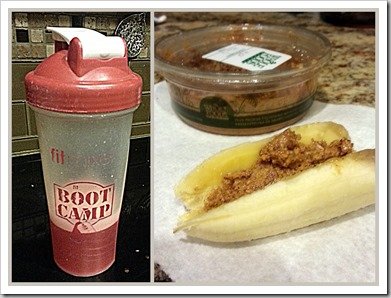 Protein: 3.3g
Meal 2 – Post-Workout
Next up is always a protein shake. It's easy for me to throw different things into the mix every day to change the flavor, and a great vehicle for my Vega Protein scoop of the day. Monday's smoothie had almond milk, 1/2 banana, frozen black cherries, tablespoon ground flaxseeds, Vega Chocolate Performance Protein, and kale.
Protein: 30g
Meal 3 – Morning Snack
About 3 hours after my smoothie, I pull out my tupperware filled with chia pudding. For the past few weeks, I had been keeping this normal, but Monday I had a strange idea that I decided to try… a little nutritional yeast (nooch) in the mix! Now I have to say, this is a weird flavor combination, but I loved it! Note: I am also known to eat nooch by the spoonful.
Protein: 12.9g
What's in the mix of this Cheezy Chia Pudding Snack?
2 tablespoons chia seeds
1-2 tablespoons nutritional yeast
2/3 cup unsweetened almond milk
3-6 drops stevia
Let sit for 10+ minutes and enjoy! I make this in the morning and eat it several house later.
I think this one is worthy of Laura's Strange But Good link-up, which happens every Friday over at Sprint2theTable.com. If you haven't checked out this collection of odd flavor combos with delicious results – make sure you do!
Meal 4 – Late Lunch
My colorful lunch was Susan's Zucchini "Noodles" with Sesame-Peanut Sauce, with an extra cup of garbanzo beans per serving. I love the garlicky sauce the noodles are tossed in, although it's best to have a mint ready if you have afternoon meetings.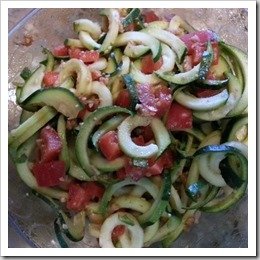 Protein: 20.5g
Meal 5 – Afternoon Snack
I found this snack idea for Black Bean Bites with Spicy Salsa on Oxygen Magazine's website and made it without any modification. I would probably make twice the balls with the same amount of ingredients next time, so that I had two to munch one (instead of one).
Protein: 14g
Meal 6 – Dinner
It was a mexican-themed dinner with Quinoa Taco Salad for dinner. I munched on some cherry tomatoes while cooking, so none actually made it in the bowl. This had a ton of flavor. I topped mine with salsa, a sprinkle of Daiya pepperjack, and 1/4 a diced avocado. It's serviced in a toasted flour tortilla, although you can't really see that in the picture.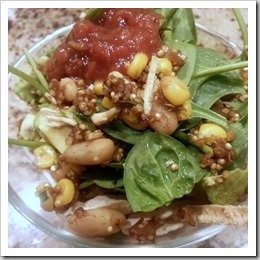 Protein: 14.4g
Meal 7 – Evening Snack
Finally, a little Odwalla Green Machine juice, to mix with my evening dose of glutamine.
Protein: 2g
Total Protein for the Day: 97.1 grams
This is my first time in a long time adding up my protein (which I didn't pre-plan, totaled on Tuesday night) and I'm pretty happy with the result. Not bad! There is a wide range of guidance on protein needs for strength training — this puts me over the low-end recommendation, but under the higher recommendations.
********************
Questions for you:
Do you track your calories or protein? Do you find it helpful or too high maintenance? It's tough for me, seems like a lot of extra effort.

Any other plant-based small meals you've been loving lately?

What do you think of my weird chia pudding combo?