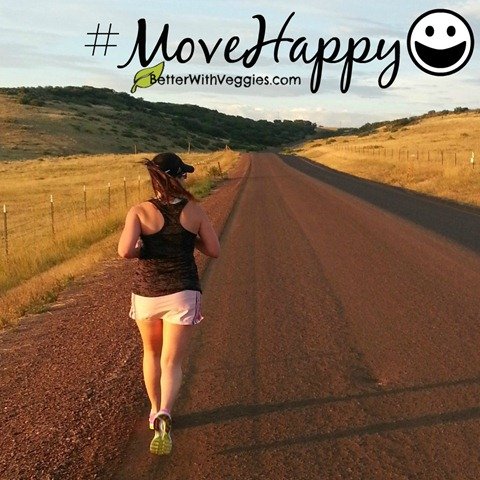 Introducing the #MoveHappy Challenge!
A few weeks ago, I started tagging many of my workout photos on Instagram and Twitter with #MoveHappy. It's my reminder that I'm blessed to be able to move & sweat, so I want to enjoy my workouts! It's about enjoying your fitness journey.
Instead of viewing fitness as a chore and something you "have to do", I want you to focus on how it makes you feel. It's finding out what gets you moving and makes you smile in the process. And maybe that smile will be contagious and someone else will move & smile too.
It's about making fitness fun – which I think is the key to making it a part of  your lifestyle. So in December, I challenge you to finding out what makes YOU #MoveHappy!
Are you ready to accept the #MoveHappy Challenge?
The challenge runs through the month of December and I want you to get moving. It's simple – just get up and get moving at least 3 times each week. That might be a walk with your dog around the neighborhood, a strength training session in the gym, or a 3 mile run in your neighborhood admiring Christmas lights. Just get out there, move, and smile.
To accept the challenge, visit the official #MoveHappy Challenge Loop page (or download the app for your phone) and click the "Accept Challenge" button.
Then post your #MoveHappy experience on the Challenge page at least three times each week to be eligible for the week's prizes. I'd love to see you that tag on Instagram & Twitter too – let's start a movement!
At the end of each week, I'll pick the winner at random from everyone who participated. Each Sunday, the challenge starts again and you have another chance to win! We  can also use Challenge Loop as a community to encourage each other throughout the month and help everyone move even happier!
Members of the challenge will also get a weekly update with motivating thoughts, tips, winner of the previous week, and details on the next week's prizes!!
The Prizes
Each week, I will randomly select one participant who has shared at least 3 #MoveHappy experiences on the challenge page during the previous week. The winner will get a prize package filled with some awesome prizes to encourage you to keep moving and smiling. I'll share the details at the start of each week, but here's a little sneak peak of what is up for grabs:
Week 1 (Dec 1 – 7): prizes from Vega, Healthy Bites, MixMyOwn, Kind
Week 2 (Dec 8 – 14): prizes from Vega, Living Proof Gear, MixMyOwn, Kind
Week 3 (Dec 15 – 21): prizes from Vega, NOW Foods, MixMyOwn, Kind
Week 4 (Dec 22 – 31): prizes from BWV Multisport (5K or 10K plan), Vega, MixMyOwn, Kind, GymDoll
What are you waiting for?
I'm really excited to host this challenge for you – it's going to be a fun way to encourage each other through the holiday season and remember to smile. –>  Join the #MoveHappy challenge!!
Once you've signed up for the challenge, grab the logo below to help share the #MoveHappy movement: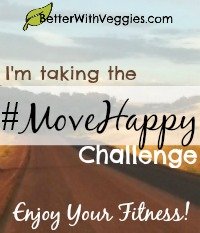 ********************
Questions for you:
Are you up to the challenge?

Do you enjoy your workouts?