We've been rocking the #MoveHappy Challenge for 3 full weeks now and it's a great party!! It was a great incentive for me to keep moving on vacation (which I did pretty well!) and it's so much fun to watch others and encourage them as they find what is fun for them. It's not about how many miles you run or pounds you lift, it's about moving and enjoying the process. If it's not fun, you won't make it a lifestyle (or even a long-term habit).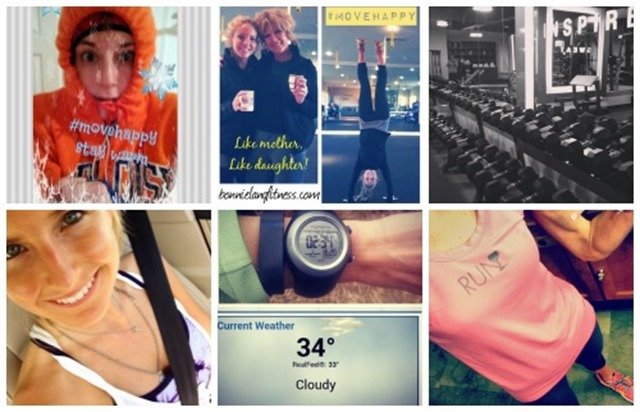 This week I picked six ladies who posted some great #MoveHappy encouragement on Instagram that you should definitely check out for yourself –> Nicole (@fitfulfocus), Bonnie (@bonnielangfitness), Lizzie (@liz_triathlete), Lacey (@thislittlechickpea), AJean (@avajean26), and LIndsay (@lccotter). I found a few new to follow from this tag over the past week, so make sure you check them out!
Week 3 Winner
On Saturday, we wrapped up the third week of the challenge – which means it's time to announce another winner!! This week's winner is …
…Natasha Pattison – who has been finding her #MoveHappy by putting miles on her running shoes.
Congratulations Natasha! Just send me your mailing address and phone number, so I can make sure all your winnings get to you quickly!
This Week's Sponsors
Can you believe this is the LAST WEEK of the challenge?? Yesterday marked the start of the week and we're going all the way through the 31st for the BIG finish! You still only need 3 #MoveHappy moments on the challenge page to win, but I hope you'll get in more fun than that. And even though it's the last week, you can still join the fun if you haven't already. You can read all about the free challenge & how to register and join today!

Since this is the last week – I think this is the best prize pack yet (although they have all been awesome!)!!
BWV Multisport – 5K or 10K Plan
I couldn't let the other sponsors have all the fun, so this final week of the challenge I added a little prize of my own to the mix. If you're new around here, you may not have heard about BWV Multisport yet. This is the online coaching side of Better With Veggies, where we offer run and triathlon coaching for athletes of all abilities.  Both Kirk and I are certified coaches and have a great time sharing our knowledge and love for the sport with others around the world (yep, Kirk is coaching a runner in Brazil – so we're global!).
This week, we're giving away a 5K or 10K custom training plan to the #MoveHappy winner! I know a lot of you start off the year with a race on your list of goals, so we want to help you get there. And I may have a discount coming to kick off the New Year, in case you don't win!
Vega Protein Smoothie
Having just gotten home from vacation, I'm looking forward to enjoying a Vega Protein Smoothie (or 5) this week! You better believe I'm going to whip up some Healthier Winter Banana Pudding to celebrate the return to cool, dry weather (which I missed!). Whether you are a smoothie novice or veteran, these are a great addition to your stash..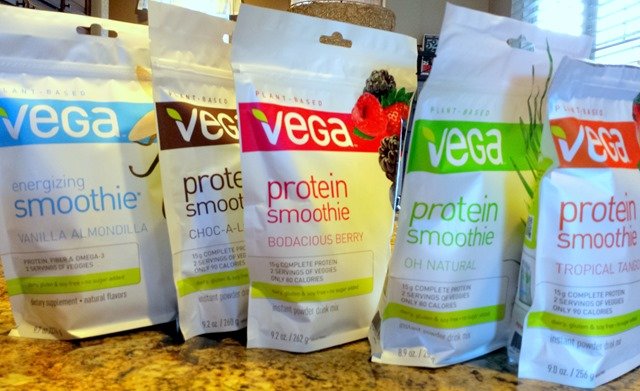 This is your last chance to win 5 pouches of Vega Protein Smoothie, a Vega shaker cup (for mixing a smoothie on the go!), and a Vega T-shirt! Big thanks to Vega to sponsoring all 4 weeks of this challenge, so more of you can try this out!!
MixMyOwn
Have you created your own MixMyOwn muesli yet? I'm planning to create a new bag of healthy cereal myself this week from the almost 100 ingredients you can choose from on the site. If you're still finishing up your Christmas shopping, this is a great gift idea (and they have online gift certificates!).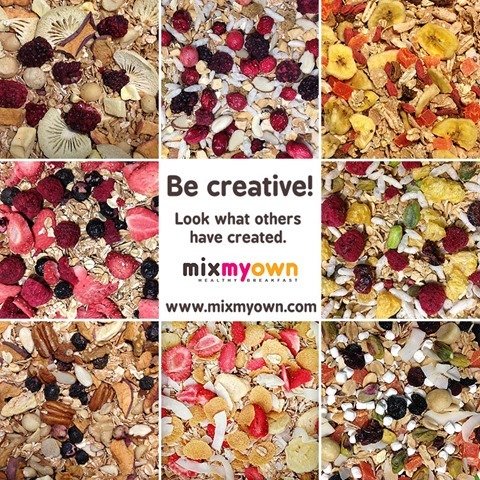 If you're not familiar with the company, check out my first review for more information! This week's winner will get a $10 gift certificate to create their own muesli! That's free license to make some amazing healthy cereal! Big thanks to MixMyOwn to sponsoring all 4 weeks of this challenge, so more of you create your own muesli!!
Kind Snacks
Another snack to add to your healthy pantry is from Kind Bars! Do you know I even saw these at the snack stands in the Cancun airport? These are everywhere now and I love it! You know I love things that are yummy AND nutritious around here!
This week's winner will get the final 2 boxes of Kind snacks to stock their pantry. Big thanks to Kind (and Kind Ambassador Lauren!) to sponsoring all 4 weeks of this challenge, so more of you enjoy their snacks!!
Gymdoll
We're not done yet, because there are FIVE prizes in this week's grand finale! Have you seen my #MoveHappy photos in the "Suck It Up, Buttercup" tank? The company behind that cute tank is Gymdoll and I thought you guys would love these active tanks! Their mission is to provide high-quality, fashionable workout apparel that motivate and inspire you to achieve your fitness goals.

This tank is surprisingly soft and a nice, long length (which I know many of you love!) – but not too long for shorties like me either! It's on the fitted side, so if you're not looking to see the curves, you may want to order up a size (the fit is great for me!). I didn't have any red shirts in my closet, so I chose the bright option. I know you're all surprised, right.
This week's winner will get a Suck It Up, Buttercup tank of their own! You can choose your own color and size, because you may not be as bright and obnoxious as me. I really did used to be more of a neutral color person, so I understand if you prefer the purple option.
*********************
The final week is going to be awesome, so don't miss out on your chance to win all these prizes! If you have family coming to town, enlist them to #movehappy with you and share the joy! Remember that the point of this challenge is to truly ENJOY your fitness, so find something that really maks you happy. Don't forget to document your experience on the official challenge page (this counts as a prize entry!), share them on instagram, twitter, facebook, or wherever you can spread the SMILE to your friends.
And don't forget to use the #MoveHappy hashtag, so we can keep spreading the happy to others!
*********************
Questions for you:
Did you try anything new last week to really make you smile?
Do you have any #MoveHappy Christmas activities planned?