It's been a fun week of moving and smiling with the #MoveHappy challenge!! I've so so excited to see everyone's enthusiasm, encouragement, and #movehappy accomplishments every day. With just under 100 participants, we've got a great group of guys and girls!! And #MoveHappy is taking over more than just the challenge loop group – we're on Instagram too:
Just a few of of my favorite instagram photos tagged with #MoveHappy for the week! From left to right, these photos are courtesy of Lindsay (@lccotter), Amy (@runningescapades), Nicole (@fitfulfocus), Tracy (@tjstone9311), Megan (@thelyonsshare), and AK Stout (@akstout18).
I thought it might be fun to feature a few of my favorites each week when I announce the challenge winners – so make sure you share your #MoveHappy photos on Instagram too!
Week 1 Winner!
I'm excited to announce the winner of the first week's challenge – Sally Jeppson! Check out her cute goldens, who are happy she decided to take the challenge too:
Congratulations Sally! Just send me your mailing address and phone number, so I can make sure all your winnings get to you quickly!
This Week's Sponsors
Are you ready for week 2? We officially started the week yesterday, but it's not too late to join (read all about the free challenge & how to register!

Don't forget: you do need need to log 3 #MoveHappy experiences on the challenge page during the week to be eligible to win the week's prizes.
This week's package includes prizes from Vega, Living Proof Fit Gear, MixMyOwn, and Kind!
Vega Protein Smoothie
Did you catch all the details about the new Vega Protein Smoothies on last week's post? If not – go check out the details now. These are a fantastic introduction to Vega, if you've never had it before. And a great addition to your Vega shelf if you already love them. I used the Viva Vanilla to create a new Healthy Banana Pudding last night – a recipe I promise to share with you very soon!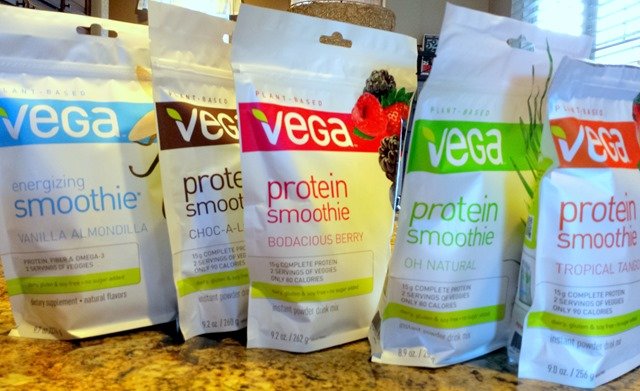 This week's winner will get 5 pouches of Vega Protein Smoothie, a Vega shaker cup (for mixing a smoothie on the go!), and a Vega T-shirt!
Living Proof Fit Gear
When you take your #movehappy selfies at the gym, it's even more fun when you have a cute top on, right? That's one of the reasons I love the tops at Living Proof Fit Gear! Their tagline is Fabulous Gear for Fit Chicks and I think that's a great description! I have three of their shirts in my workout rotation: "Sore Today, Stronger Tomorrow", "Stronger Than You Think", and "Sweat and Sacrifice. It Takes Both".
For the winter, they also have some great long sleeve options that I've been eyeing – great for the cold walk into the gym or a frosty run. There's been talk about some new designs coming in January too, when I feel a little better buying myself presents again. Something to look forward to!
This week's winner will get a Living Proof tank of their choice! You may want to start deciding which one you will pick – it's a tough decision!
MixMyOwn
Last week I emptied my last bag of MixMyOwn from the pantry, so it's too bad I can't win this week's prize! If you haven't heard of MixMyOwn before – check out my first review and last week's sponsor post. The idea is you get to create your own bag of healthy cereal, exactly the way YOU want it! That means you can create something based on what you enjoy most and leave out the things you don't.
This week's winner will get a $10 gift certificate to create their own muesli! I really want to hear what you create if you win – yes, I'm nosy like that.
Kind Snacks
Kind Bars are awesome (they even use the #KindAwesome tag!), because they are all natural, gluten-free, non-GMO, with ingredients you can see and pronounce! They taste delicious and they are pretty healthy – a great combination for a portable snack.
I shared about the KIND movement last week – did you take a small steps to show kindness to those around you? That's something I think we can all do a little more of. I heard a great idea of giving $5 gift cards (or maybe a few KIND bars!) to those who work in the retail industry (especially this time of year) when you see them dealing with a difficult customer. Just a little something to brighten their day.
This week's winner will get 2 boxes of Kind snacks to stock their pantry (or share with your neighbor, if you're so inclined).
Ready to #MoveHappy this week?
It's going to be another amazing prize box stuffed to the brim – I hope you're excited and ready to #MoveHappy!! Remember that it's not about slogging out miles or grinding out another workout, it's finding out what gets you moving AND makes you smile in the process! If your workouts aren't making you smile right now – try something new! Don't forget to document your experience on the official challenge page (this counts as a prize entry!), share them on instagram, twitter, facebook, or wherever you can spread the SMILE to your friends.
And don't forget to use the #MoveHappy hashtag, so we can keep spreading the happy to otheres!
*********************
Questions for you:
Did you try anything new last week to really make you smile?
What was your favorite workout last week?