My favorite month of the year has officially started! To add to the normal excitement of December, it's also time to kick off the #MoveHappy Challenge!! In case you missed the announcement last week, you'll want to read all about this free challenge to get you moving and smiling through the month PLUS have the chance to win some awesome prizes every week!

As of Sunday night, there were over 60 of you that have already accepted the challenge. If you aren't one of them yet, get the details & sign up now! You can join at any time, but you do need need to log 3 #MoveHappy experiences on the challenge page in a week to be eligible to win the week's prizes.
This Week's Sponsors
Speaking of prizes, I want to share a little more about this week's prizes! This first package includes prizes from Vega, Healthy Bites, MixMyOwn, and Kind! You've heard of all of these brands here on BWV before, but there are some new treats you'll get to enjoy!
Vega Protein Smoothie
Even if you're not usually into protein smoothies, this is one you're going to want to try! Vega has revamped their energizing smoothie to create an even better version that is delicious & even more nutritious. The new Vega Protein Smoothies come in 5 flavors: Bodacious Berry, Choc-a-lot, Oh Natural, Tropical Tango and Viva Vanilla. If you've never tried Vega before – this is a great one to try!

I made a quick breakfast smoothie yesterday with the Tropical Tango, almond milk, & cranberries – loving the new mix! I know I'm going to have fun creating other fun smoothie recipes over the next few weeks. And 4 winners are going to get to try these out with me! Vega has been generous enough to offer a prize pack for each week of the #MoveHappy Challenge.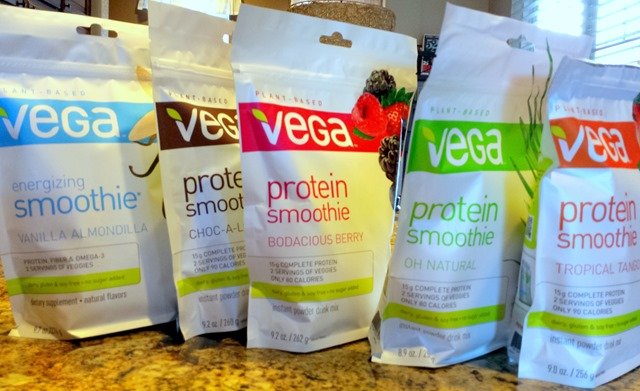 Each winner will get 5 pouches of Vega Protein Smoothie, a Vega shaker cup (for mixing a smoothie on the go!), and a Vega T-shirt!
Healthy Bites
One of my favorite healthy treats is made by a fellow blogger (and great friend!), Lindsay Cotter of Cotter Crunch! She's even guest posted a few times over the past few years – including a recipe for the Cherry Crisp Delight variety of Healthy Bites and her perspective in my Balancing Fitness & Life series.
If you haven't tried her bites before, you're in for a treat! They are small little balls of flavor filled with mostly all-natural, gluten-free and organic ingredients. The mission is to offer the most minimally processed bites proving to people that eating healthy can taste really good while still being really good for you. All of her bites are gluten-free and several are also vegan. Each box comes packaged with the ingredients and nutritional information so that every customer knows exactly what is going into their bodies.
This week's winner will get 1 dozen Healthy Bites to try for yourself. My only tip is to be ready for the urge to eat them all in one sitting. Put them in the freezer and only get a few out at a time. Yes, they are that good!
MixMyOwn
I had the chance to try MixMyOwn for the first time in August and loved it immediately! I created several bags while I was on my competition diet, a great way to create a granola that fit my macros and dietary preferences. You could make your won granola, but this is way easier and way more fun!
As I've said before, I love how easy it is to make this work for you! Whether you're vegan, vegetarian, gluten-free, paleo, or training for a competition – you can create a mix that is delicious! They offer nearly 100 responsibly chosen ingredients, including 100% natural, unprocessed, organic, non-GMO, preservative free and sugar-free options. They keep adding new ingredients – like spirulina, hemp protein, and goji berry powder. Your imagination is the limit!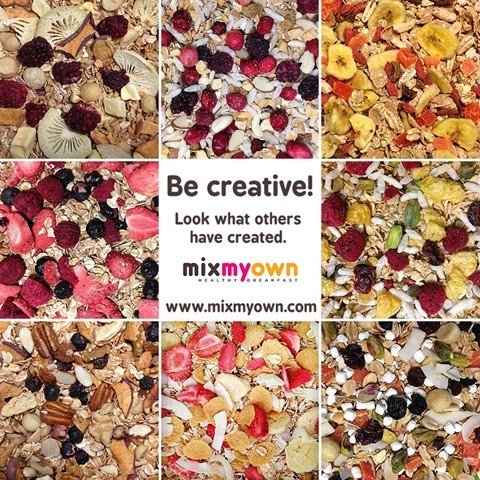 And 4 winners are going to get to make their own healthy cereal, thanks to MixMyOwn! Each winner will get a $10 gift certificate to create their own muesli! My only request is that you share you mix recipe with me, I love to hear what others create and get ideas for my next bag. 🙂
Kind Snacks
How many bars have you seen that are all natural, gluten-free, non-GMO, with ingredients you can see and pronounce? There's not many on that list, but Kind bars are and they are delicious!! I have several boxes of different Kind bar flavors in the pantry right now and have been snacking on them (probably more than I should!) over the past few weeks.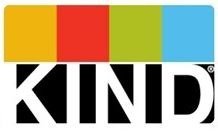 I absolutely love their tagline and the KIND movement – do the kind thing for your body, your tastebuds, & the world.™ They want to make it easier to surprise your neighbor with acts of kindness, to make our world a little better. A perfect fit for #MoveHappy, don't you think? Kindness and happiness are contagious – and it's something YOU can help with every day in small ways!
I'm excited to say that this is another tasty treat that all 4 winners will get to try enjoy! Each winner will get 2 boxes of Kind snacks to stock their own pantry. Eat them slowly and those will last you quite a few healthy snacks!
Ready to #MoveHappy?
Whew!! That's going to be one full box of goodies for this week's winner! Actually, you may get a few separate packages, but that's just semantics.
I hope these prizes help to motivate you even more to enjoy your fitness this week. Remember that it's not about slogging out miles or grinding out another workout, it's finding out what gets you moving AND makes you smile in the process! If your workouts aren't making you smile right now – try something new! Don't forget to document your experience on the official challenge page (this counts as a prize entry!), instagram, twitter, facebook, or wherever you can spread the SMILE to your friends. And remember that #MoveHappy hashtag, so we can all cheer each other on throughout the week!
*********************
Questions for you:
What's one activity you're planning to #MoveHappy this week?