Happy New Year!! I hope you had the day off yesterday to celebrate the first day of 2014 and maybe watch a little football. We cheered on my beloved Georgia Bulldogs in the Gator Bowl, but the game didn't go quite the way I hoped and we ended the season with a loss. Darn.

Week 4 Winner
I know one person who's going to be starting the New Year a little happier though – the final winner of the #MoveHappy Challenge! I actually had to choose a second winner, after the first person randomly selected hadn't logged any #MoveHappy moments over the past week.
So that means a fellow Coloradan gets to take home the prize this week.
Congratulations Cassie!! This week you'll want to send me your shirt size (for the Gymdoll tank!), your choice of a 5K/10K race (so we can talk through your goals for your 5K or 10K race training plan!), your mailing address and phone number.
********************
I hope you enjoyed the #MoveHappy challenge as much as I did! It was so fun reading about all your workouts and seeing some of the new activities you tried to make you smile. Fitness is FUN!! I hope you'll continue to tag your workout on instagram & twitter with #MoveHappy, so we can motivate and inspire each other well into 2014. And now I have something that might make you even happier…
BWV Multisport Coaching Discount
If running or triathlon is on your list for 2014 as a way to get moving, Kirk and I would LOVE to help you. We have space for just a few new athletes and want to help you kickstart your training in the new year.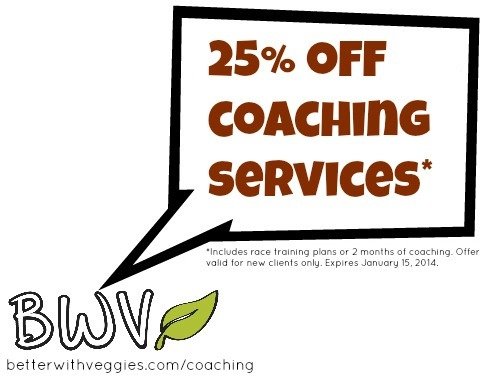 While space remains, we're offering you 25% off all coaching services. This offer is good on all race training plans or two months of one-on-one coaching. If you thought you couldn't afford a coach, I think you'll be surprised when you check out our coaching options. Initial consultations are always free and we don't ask you to make any long-term commitments. Use code NYR2014 at sign-up to take advantage of this offer!
And if you have any questions, don't hesitate to ask!
********************
Questions for you:
How did you #MoveHappy last week?

Do you have any running, triathlon, or duathlon goals for 2014?