You know that outfit that you pull out when you want to be comfortable? No..not the old jeans and old race t-shirt, even though I love those too. But this outfit is more comfortable than that. Really.
Yep, that's how I feel about the outfit I got from Yogi Clothing at the end of December. I find myself wearing this all the time…although I'm more careful when I go out to think about who's seen it on me. 🙂
What's the Deal?
Through my role as a FitFluential Ambassador, I had a chance to pick an outfit from Yogi Clothing to try and give an honest review. They use only high quality fabrics to create clothing that helps you achieve your goals. Although I haven't had the chance to practice yoga much recently, I looked for something that would be comfy and warm to layer over my workout gear.

Their website offers activewear, dresses, outerwear – everything looks very relaxed and comfy. Not my typical style at all…so I was a little nervous the first time I wore the sweater. I think I'm expanding my style preferences…
My Experience
I wore the sweater to church with a scarf and fun hat a few weeks ago and felt very chic, so I convinced Kirk to take a picture of the outfit. I need to work on my posing…
 Yogi Clothing Stripe Top
The pants are so comfortable I could wear them all the time. In fact I'm wearing the pants right now as I type this post. I'm not sure if I could get away with them at work…but maybe on casual friday.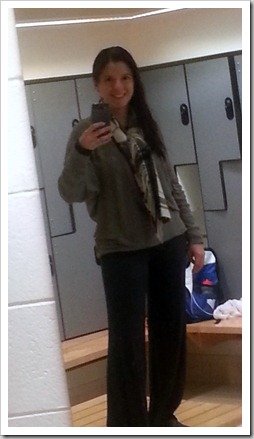 Wild Leg Rollover Yoga Pant
The Verdict
The sweater and pants are great for after a swim when it's 15 degrees outside (like the picture above). And for a trip to our local brewery. And I wore the sweater under a black jacket to a work conference on Monday. Layering for workouts or dressed up for work or dinner…I didn't expect that.
The downside is they are both washed on the gentle cycle. I prefer being able to wash all my comfy clothes in the regular wash, but I guess that's the tradeoff for the super-soft fabrics.
I know I'll be shopping here again the future, so it's something I would happily recommend to you!
I'm becoming a clothes person…when did this happen?
********************
Questions for you:
Do you have a favorite comfy outfit?

Are you actively practicing yoga right now? Favorite style?