Back in January, I was lucky enough to win a giveaway for jewelry on Christine's blog for a company I didn't know much about. The concept was right up my alley, with inspiring messages stamped on jewelry that you could wear to the gym or anywhere else. Once I opened up my prize box and put on the my wrap with "Strength Courage Wisdom", I was in love. It literally didn't come off my wrist for over a month!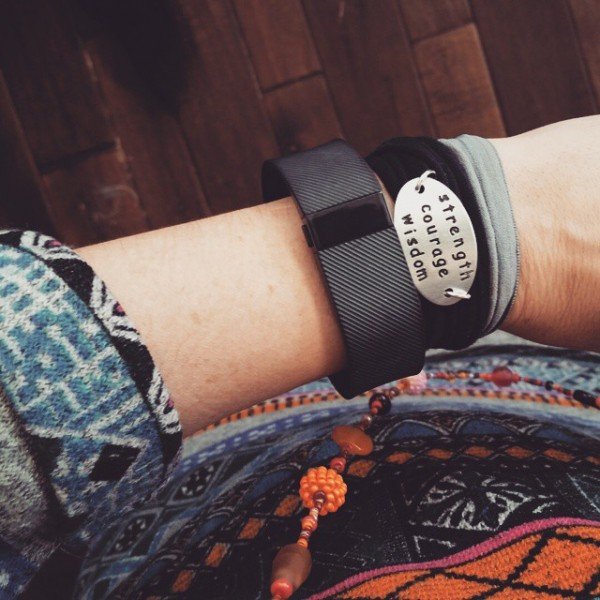 I don't wear many bracelets, because they tend to drive me crazy when I'm typing on the computer (which describes much of my day). These wraps are a soft fabric (almost like a sweatshirt) and you simply twist them around your wrist to find a comfortable fit – no issues at all with they bothering me while I type. You can cut the length and retie, if you'd like less loops around your wrist (which I did on my first one above).
When Amy asked me if I'd be interested in being an Ambassador for Momentum Jewelry, it took me no time at all to agree. I love these wraps and I'm thrilled to get the chance to try even more out and share them with you!! Don't miss the giveaway at the bottom of this post!
Being an ambassador means that I get to sample more of the Momentum Jewelry creations (my collection is growing!) and you'll be seeing more #armcandy in my photos on Instagram, Facebook, and here on the blog. You might even see those FootNotes in fun places, like the one I added to my snowboard boots this weekend!
It also means that YOU get 10% off any order on Momentum Jewelry when you use my referral links (the links in my sidebar or in this post). Full disclosure: I also get a small commission for referring you if you decide to buy. I hope you know by now that I'm very picky about the companies that I work with and I would never refer something to you I wouldn't share with my friends & family. 
New WISH Wraps & Discount!
As much as I love the fabric wraps, I'm currently even more in love with the WISH wraps!! "Live Joyfully" is stamped on my brown leather wrap and I've been wearing it all week. Did you notice it in the picture above? It's a bit more dressed up than the traditional wraps, so it works great for those of us who work in an office!
Update: The WISH wraps have officially launched and there's a special 20% discount through April 20th! The WISH wraps are normally $40, but you can get one for $30 simply by using my link – this is an ambassador only discount!!
Win a Momentum Wrap or FootNote
Since I won my first wrap through a giveaway, I have to return the favor and give you a chance to win one of your own! One winner will get to choose their favorite wrap or FootNote to start their own collection. The giveaway is open through next Wednesday at midnight EST and is open to readers in the US & Canada (full terms & conditions in the rafflecopter widget).
Use the widget below and enter now:
Good Luck!
********************
PS – Did you submit your question about bikini competitions in my last post? I'll be answering your questions over the next few weeks, so make sure you tell me what you want to know!!