Welcome to the 2nd edition of Meatless Mondays from A-Z!!
I loved the creativity of the recipes everyone shared last week for
Artichokes
and I can't wait to see what you have created this week!
For me, this week was tough! It took me until Saturday afternoon to come up with a recipe idea that excited me. I was flipping through a few cookbooks in an attempt to get inspired and the idea finally came to me while looking at a recipe for beet gratin. Completely unrelated, but for some reason it made me think about fried green tomatoes. From there, I had a rough idea of what I wanted to do – I just refined it while cooking.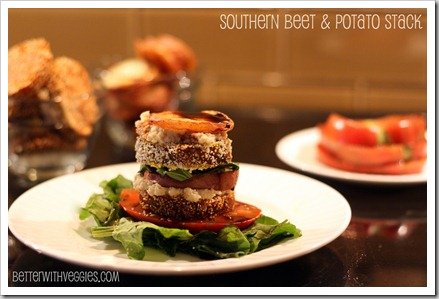 The result was fantastic and I'm sad to say it's all gone. I'll have to make this one at some point in the future, because Kirk didn't actually get to taste this one.
Southern Beet and Potato Stack
Author:
Ingredients
3 golden beets with greens attached
4 small red potatoes
1 large heirloom tomato
Olive Oil Cooking Spray
1/3 cup grits
1/3 cup non-dairy milk
1 tablespoon chili powder
1 cup cashews
1/3 cup water
Balsamic Vinegar, to taste
Instructions
Preheat oven to 350 degrees.
Trim off and reserve beet greens. Trim any excess root and discard. Scrub beets and wrap each beet individually in aluminum foil. Place wrapped beets directly on rack in oven and cook for 1 hour. Remove beets and unwrap to allow to cool before handling.
Wash beet greens and slice, set aside for final assembly.
Slice potatoes into 1/4-1/2 inch rounds and arrange in a single layer on a baking sheet coated with olive oil spray. Spray tops of potatoes with olive oil spray.
Put non-dairy milk into a small bowl; grits into another small bowl. If you like spice, add chili powder to the grits and stir to combine. You can also coat half the beets without the spice and add the spice for the second half (as I did).
Slice beets into 1/4-1/2 inch rounds. Dip each into the non-dairy milk, followed by grits mixture, then place onto baking sheet coated with olive oil spray. Repeat with remaining beets until all are coated with the grits mixture and arranged in a single layer on the baking sheet.
Cook both beets and potatoes in oven for 15 minutes.
While cooking, put cashews into food processor and slowly add water while processing. You may need to stop and scrape down the sides a few times, until a thick paste is formed (note: this does not need to be smooth).
Thickly slice tomato into at least 4 rounds.
To assemble, place handful of greens on a plate. Top with one slice of tomato, 1 beet, 1/2 tablespoon of cashew paste, potato round, greens, 1 beet, 1/2 tablespoon cashew paste, and potato round.
Feel free to play with this order and amount of cashew paste – the order is up to you!
Finally, drizzle with good balsamic vinegar.
Before digging in, sit back and enjoy the beautiful presentation. If you're anything like me, this will get messy when eating.
And now it's time to see what you created for beets this week!
In case you didn't notice the ingredient list in the #MMAZ graphic, next week is Caperberries! This is the ingredient that sparked the idea for this challenge, so it's a special one.