You know what's cool? When Kirk helps brainstorm recipes. Even cooler? When he creates new recipes for Meatless Monday from A-Z! For this week's featured ingredient, he used Pickled Sushi Ginger that we already had on hand.
Not only does this recipe feature ginger, it also includes another September ingredient – edamame! The combination of these two ingredients results in a wonderfully fresh flavor, which works great on a light pasta.
The fresh flavors inspired me to try using this sauce on zucchini noodles. You may remember Katie's guest post raving of these amazing noodles or Kristina's recent recipe utilizing these amazing veggie spirals. I was happy that my suspicion was correct, this sauce was fantastic on freshly spiralized zucchini noodles!
Green Ginger Cream Pasta
Author:
Ingredients
1 block silken tofu, extra firm
1 tablespoon rice wine vinegar
1/2 tablespoon plum vinegar
1/4 cup edamame, shelled
2-4 tablespoons thinly sliced pickled ginger
(depending on how much you like ginger)
8 ounces rice pasta (or 2 medium zucchinis, spiralized)
1 tomato, diced (optional)
optional garnish: green onion, cashews, ginger
Instructions
Combine silken tofu through pickled ginger in a blender and combine until smooth and creamy. Pour over pasta (or spiralized zucchini) and stir to coat.
Mix in diced tomato (if desired) and top with desired garnish. Serve!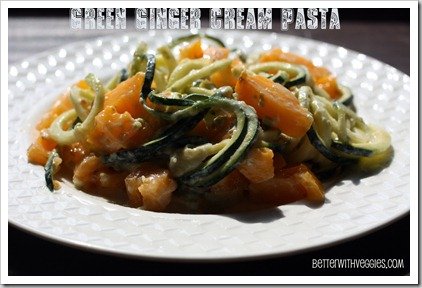 Now it's time to share your ginger recipes – can't wait to see what you created!



********************
You might have noticed that next week is October and I haven't shared the next month of ingredients yet. Whoops! I completely forgot last week, let's pretend I was testing your creativity and wanted to see what you could create on a week's notice. 🙂
Finally, the October Meatless Mondays from A-Z ingredients!!
Oct 1: Hominy

Oct 8: Israeli Couscous
Oct 15: Jalapeño
Oct 22: Kale (couldn't help myself!)
Oct 29: Lentils
If you've participated in MMAZ so far, I hope you'll continue to link up! If you haven't joined yet – why not?! I hope to see YOUR recipe creations in October.🙂
Feel free to link up to old recipes that are meatless and feature the key ingredient. You will need to add the image to your post, however.
******************
Questions for you:
Have you experimented with spiralized veggies yet?

Does your husband/wife/boyfriend/girlfriend like to cook?

What recipe on the October list are you most interested in?