In January, I shared with you about PV Body, monthly fitness apparel subscription box. In February, the company rebranded to Ellie and shifted from offering other brands to their own Ellie-branded clothing. I know some people were frustrated with the change. As for me, I reserved judgment until I could try it out for myself.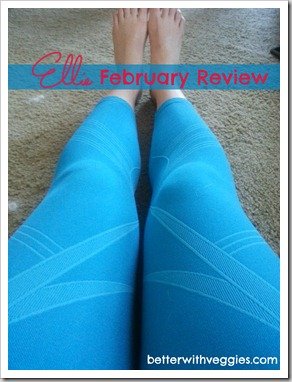 What's the Deal?
The new Ellie program gives you more options than PV Body. You can shop the catalog each month and buy what you want on Ellie.com. You can also join the Fit Fashionista Club (the equivalent to the PV Body monthly club) and choose any two pieces (at any price!) for $49.95 per month. Or you can use my link and save 20% for the first month.
You can pick any pieces from each month's collection – 2 tops, 2 bottoms, or 1 of each. Love the flexibility!
My February Box
For my first month, I decided I needed to branch out pick some BRIGHT colors. I tend to gravitate to neutrals, but I forced myself to step out of the box and picked the BOLD electric love capris.
I absolutely love these pants, I've been looking for excuses to wear them, while not looking like I'm wearing the same thing all the time. I tested these out so far during a TRX workout, long bike ride (over cycling shorts), and at the gym for a functional strength workout.
It's soft, comfortable, and they look darn good!
The downside? It gets snagged on Velcro. 🙁 Not a huge deal, but there is some extra Velcro that hangs off the side of the Fuelbox on my bike, which rubbed against my pants on the bike ride. This is something to be careful of in the future.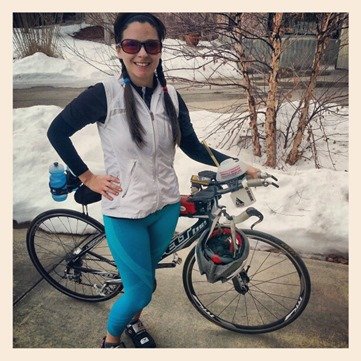 Why no top?I ignored the size chart on the site and went with a medium top, because that's what I wore on the old PV Body site. So my top was too big and I recently exchanged it for a pant instead. I'll be sure to write another review when I get it and test it out!
The Verdict
I'm pretty happy with my first box of Ellie goodies. The sizing issue was my own fault – lesson learned, follow the size chart! The quality of the pants I got were good, bright colors, and very comfortable. I would absolutely buy another pair of these, if we didn't get to pick from a whole different catalog every month. 🙂
And for March, I am excited about my new selections. I have to admit I'm a little disappointed at the lack of color, but I also know that black goes with EVERYTHING!. 🙂
Can you guess what pieces I chose from the pictures below?
If you decide to give Ellie a try, make sure you use this link to save 20% of your first order!
*DISCLAIMER: Ellie provided me with the products shown above and, as an ambassador, I make a small commission off of each person that signs up using my link. As always, all thoughts and opinions expressed are completely my own!
*******************
Questions for you:
Are you a fan of bright, obnoxious fitness gear?

What is your favorite piece of fitness clothing right now?