Don't you love waking up on a Monday morning with a chance to win FREE stuff? Well, I do, and I wanted to share that fun with you – so today is your chance to win Madagascar Bourbon Pure Vanilla!
But first, a quick recap of my Friday & Saturday. =)
We stayed in on Friday night (after a crazy, busy day at work) and enjoyed dinner & a movie on the couch. With storms in Atlanta, my Saturday morning run with Team 65 Roses was cancelled, which meant I could sleep in as late on Saturday morning!! I took advantage of the rainy weather to do just that and then spend the morning in the kitchen creating these delicious muffins:
I promise to share this recipe this week – they are too good to keep to myself! 😉
We also made time for a trainer bike ride – finishing up Season 1 of BBC's Doctor Who (streaming for free from Amazon Prime!) and then a 7 mile Fartlek run from the house. Any other Doctor Who fans? It's a bit cheesy, but really good at the same time. Kind of like a British version of Quantum leap, kind of. =)
Anywho…
After a quick shower, it was time to make dessert for our dinner date at a friend's house! I decided to take advantage of a new bottle of vanilla I received a few weeks ago to review. This Madagascar Bourbon Pure Vanilla is from the Bourbon Islands near Madagascar (nothing to do Bourbon alcohol) and is advertised as "the world's finest and most consistent vanilla." We've been on the hunt for amazing vanilla after bringing back a bottle of vanilla heaven many years ago from St Martin (which we have never found anywhere else). I thought a vanilla cookie blind taste test would be a fun way to try this out!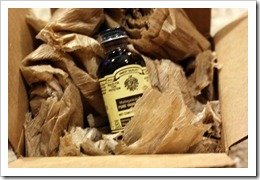 I finished up a bottle of McCormick Imitation Vanilla (MIV) in half the batch of cookies; and used the Madagascar Bourbon Pure Vanilla (MBPV) in the other half. The dough I made with the MBPVwas a little drier than the first batch with the MIV. I'm honestly not sure if I did something strange or if the properties of the vanilla were different. I made a third batch to be sure I used the same proportions and it came out the same way.
Before I show you the cookies – take a look at this feast Malinda made for us! Roasted Cauliflower, Edamame Pesto Pasta, & a Kale Salad – YUM!! The Kale Salad was Malinda's take on a great salad from Whole Foods, the others were from Isa Chandra's Appetite for Reduction. I don't have this cookbook yet, but it looked like lots of great recipes (but not many pictures again).
I baked the cookies after dinner, so they'd be nice and fresh (hot cookies are SO much better!) when we started sampling. I labeled the bags A & B, so only I knew which was which.
The verdict – very different! The cookies made with the imitation vanilla were really sweet, very sugar cookie like. The cookies made with the Madagascar Bourbon Pure Vanilla were not a sweet – the vanilla flavor was more subdued and a little deeper. I'm not sure this vanilla would be my choice for sugar cookies, but it would be really good in muffins or recipes where sweet is not the characteristic you are looking for. It was definitely a richer, more complex flavor. Good – but the Imitation Vanilla was better suited to these cookies.  I'm excited to try out different recipes better suited to the flavor of this vanilla, though.
Ready to win a bottle to try for yourself? The awesome people at Nielsen-Massey Vanillas Inc. have offered to send one lucky winner a bottle of their own to try! And really, who couldn't use a bottle of vanilla for the pantry?!
Use the widget below to enter – you can get one bonus entry every day by tweeting about the giveaway!
Entries are accepted through Saturday, January 28th – so enter today and tweet every day for lots of chances to win!
What would you make first with this vanilla?