In light of the horrible events in Boston yesterday, I want to take a moment to say how sorry I am and that I'm praying for all those who were affected. This event hit too close to home for me, as an athlete and runner. I hope we can use this this to band together for those in Boston – turn something so unthinkable into an opportunity to support each other!
*********************
I've officially finished the first week of the LiveFit Trainer, the Jamie Eason program I started after hitting reset on triathlon last week. I'm following the training plan portion 100% and loving it so far! The nutrition I'm not following as closely, since I eat a mostly plant-based diet.
First, the workouts.

When I originally looked at the schedule for the week, I thought it was going to be super easy. I've been strength training 2-3 days a week since December, so adding an extra day without all the other training should be a piece of cake, right?
Not exactly….
The workouts didn't seem too bad, but I was surprisingly SORE the next day! I was especially confident that leg day wouldn't be a big deal, but I was walking funny for the next two days. =) That'll teach me to be overconfident!
In general, I'm loving the workouts so far ! They are challenging, but absolutely manageable.
I had a few other active adventures from the week – hiking with Paige on Saturday and snowboarding (last day of the season!) on Sunday. Just a little active fun for the weekend!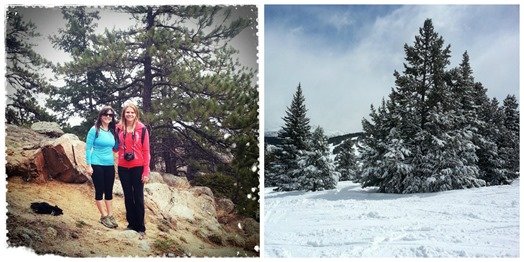 Now the nutrition.
The nutrition plan is not something that fits my lifestyle the way it's written. If you look at the example diets, you'll notice it's filled with animal protein. That doesn't really work with my mostly plant-based diet, so I'm taking the broad principals and making it fit for me.
The high level-guidance for this phase is:
Eat a small, nutrition-packed meal every 2 to 3 hours to provide a steady flow of nutrients and boost your metabolism – focus on eating clean.
Add supplements for increased energy, accelerated fat loss, and optimal results.
What I'm doing:
Small meals, mostly plant-based, every 3-3.5 hours with both protein and carbs – more than I was eating before, but closer to what I learned regarding metabolic efficiency.
Focus on eating clean or eating foods in their whole state – little or no processing.
Adding plant-based supplements based on recommendations from LiveFit and Laura. The recommendations were very similar, but Laura is willing to read and respond to a million questions from me about what to take and why.
It may not sound like a lot, but this is a pretty big shift for me. It's a lot more meals to make and I'm working on getting used to the frequency of eating. I always think it takes a few weeks to get used to different eating habits & then it feels more normal. So that means this should be much easier in another week!
*******************
Questions for you:
How did your training go last week?

Any plant-based small meals you love that I should try?