Today's guest post is from Lauren – a Blend who recently made a career change to pursue her passion! Outside of Blend, I've been able to hang out with Lauren when she visited Colorado and I'm still hoping she'll be moving here to hang out more often soon. 🙂 Enough of me writing, I should let Lauren tell her story!
*******************
Hello! I'm Lauren, the blogger behind Oatmeal after Spinning and am thrilled to be taking over Better With Veggies for the day! I am lucky enough to be friends with Heather in real life, and it's all because of a little thing called the Blend Retreat! I had been reading Heather's blog for a while before we met, but bonded with her instantly when we had our first (in real life) conversation over cocktails at Blend.
We hung out all weekend and bonded over our love of eating healthy, exercising, and of course… beer. 🙂
I am so jealous of happy for Heather and Kirk for recently moving to Colorado- it's something that my husband, Greg and I hope to do someday soon! I actually got to hang out with Heather over the summer when my Greg and I flew out there to celebrate our one year anniversary. We ran a 5k together one night, and to balance it out we spent another afternoon touring a few breweries outside of Boulder.
Staying healthy and fit is something that is super important to both Heather and Kirk- and I really admire that! I love that they do so many active things together, and that exercise is a passion that both of them share. This is also something that Greg and I have in common, so I wanted to tell you just a little bit about our story and how we make fitness a (fun) priority in our relationship.
I met Greg a little over five years ago- shortly after having lost about 60 lbs. through healthy eating and exercising. I was getting really interested in running and had a few 5ks under my belt. Greg told me that he was really passionate about mountain biking and often competed in races. We bonded immediately over our love for being active and realized that we both had a very competitive nature. I encouraged Greg to continue to compete in mountain bikes races, no matter how crazy they were (like the 24 hour race he did!). Greg also encouraged me to continue with running and sign up for 8k, 10k and half-marathon races. We even ran a few races together!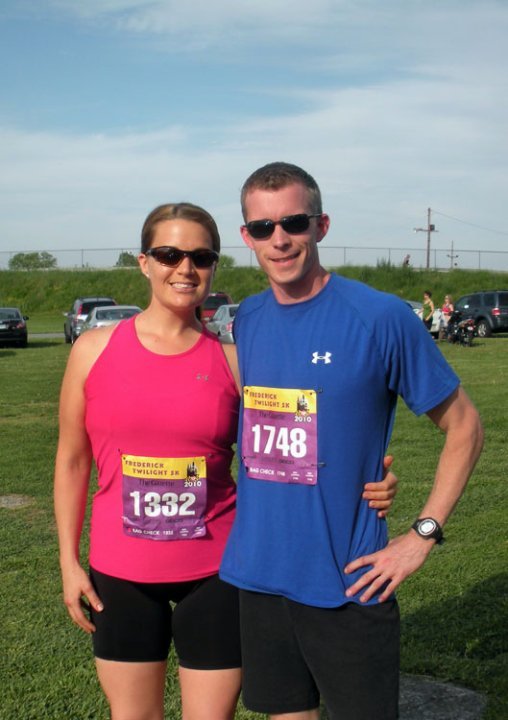 My interest in running generally progressed into many different areas of exercise and I even tried my hand at mountain biking a few times. I'm still a little bit too much of a wuss to mountain bike like Greg does, but I do enjoy riding on "baby" trails. We even got engaged during a bike ride/kayak trip in Colorado!
One of the greatest things that Greg has helped me discover is that I have an intense love and connection to being out in the woods and hiking. He introduced me to all of the awesome hiking trails that we have around Maryland – and all over the country!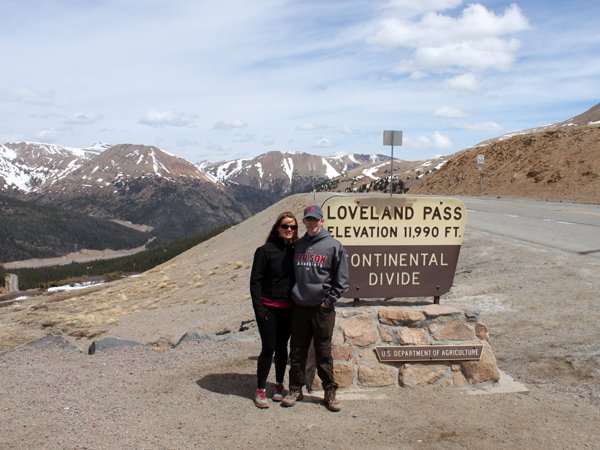 We are both so passionate about hiking that our honeymoon was a two week adventure of hiking, biking and kayaking through the Pacific Northwest.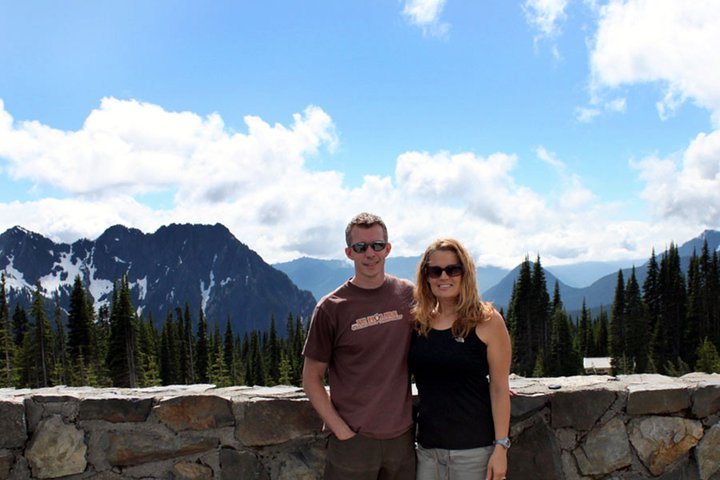 We generally plan our vacations to places where we can constantly explore and challenge ourselves, because it's what we both really love to do. Being outdoors is something that is so important to both of us, and is also something that closely binds us together. I'm a certified Spinning and Bodypump instructor, and recently quit my job of 7 years as a school teacher to pursue a career in personal training. I could have never done this without Greg's support, and am so grateful that he understands how passionate I am about teaching others to be healthy.
We made a pledge to "stay fit together" for the rest of our lives, and I don't see that being a difficult promise to uphold. If you're able to find a fitness activity (or 5!) that you both love doing together, it can make a relationship that much stronger. I'm lucky to have found my partner in fitness (and lover of craft beer) for life!
What types of fitness-related activities do you like to do with your partner?