I tend to take a million photos on vacation and this past vacation was no exception. This week I planned some extra time to get those photos edited and ready to share with you, so I have a very special guest post to share with you today!
If you've read my story about transitioning to a plant-based diet, you'll recall my friend Melody who went vegan in support of her Mom's fight against breast cancer. Well, today her mom, Suzanna, is sharing her story and her special Texas Salsa recipe!
I hope you enjoy this snapshot of a very strong woman and how she's making dietary changes to help fight stronger!
********************
For those who do not know me, I am the mother of the the beautiful young lady that started eating vegan in 2010 to show her support for me while I completed chemo & radiation treatments for Stage IIIB Invasive Ductal Carcinoma breast cancer.  My daughter has been very supportive and given me valuable information on eating better.  Her support has meant the world to my recovery.  Allow me to give you a brief history of my journey to Kiss Cancer's A**.
In November 2009 I went in for my annual mammogram.  No big deal, right.  Just another annual doctor visit that all women over 40 must endure.  This appointment was as unremarkable as all the rest of the annual visits had been.  The technician helped me get everything in the right place on the "torture machine", snapped the pictures, and declared everything was fine.  A week later I received a letter confirming I was healthy for another year.  Yea!!!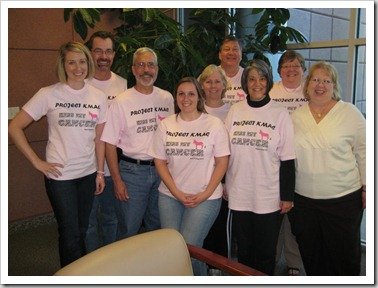 2010 started off uneventful.  Daily trips to the office to make more "doggie food" money, visiting with friends, a trip to celebrate my daughter's birthday with her & her husband.  Great year so far.  Then one Friday night at the end of March 2010, after a long week at work my husband and I decided to stay home and watch movies.  Since it was just the two of us that night I decided to get in my pj's & get comfortable.  I remember feeling so good when I took off the bra finally got comfortable.  Only I wasn't comfortable.  That is because I discovered a hard lump on the left breast.
I spent all weekend trying to convince myself that it was nothing.  That my bra had just been rubbing me the wrong way.  That I needed to drop a few pounds so that my clothes fit better.  That was all in my head and that I had nothing to worry about because I had just had a mammogram a few months earlier.  To be on the safe side I decided to be proactive and make an appointment with the doctor the first thing Monday morning.  I knew she would reassure me that it was nothing.  Instead she sent me immediately for another mammogram.  That was March 31, 2010 — only four months after I had a clear mammogram!  Since then I have undergone a double mastectomy and multiple surgeries to "put humpty dumpty back together again", and I am facing a few more surgeries this year (2012) to get back to "normal."  I  have also taken (and still am taking) numerous drugs to kill the cancer.  The last time I saw the oncologist he warned me that weight gain could cause the cancer to come back.
As I mentioned earlier, my daughter started eating vegan in 2010 to show her support for me while I underwent treatments.  She still is very supportive and gives me lots of advice on how to make healthier meals.  The funny thing is that all of my all my coworkers make fun of me because I eat healthy (or at least healthier than they do, i.e., no fried foods, low sodium, lots of salads) but the scales and the cancer indicate otherwise.  I see how fabulous my daughter looks since she started eating vegan and competing in races and I'm a little jealous.   I know I will never look as fabulous as she does but I also know that I should listen to her more.  Being prediabetic, having cancer, and taking all these drugs cannot be good for me.  So after my last oncologist visit I decided I'd better start taking charge of what goes in my mouth.
However, changing the way I eat is not going to be easy.  This is because I grew up in a small rural area of west Texas, aka, the beef capital of the state.  My family raised their own livestock, i.e., chickens, cows, pigs, etc.  Many of the animals I raised were pets one day and dinner the next.  I've milked the cows, slopped the pigs, rung the chickens necks, & plucked feathers off the chicken.  The family motto was, " if you couldn't kill it or fry it, you didn't eat it."  Vegetables were an afterthought.  So you can see that going vegetarian is a new concept for me.  However, after the stern warning from the oncologist and with my daughter's support, I am willing to make the effort to change my eating habits.  Thus, my journey to eat more of a vegetarian way have begun.  Wish me luck.
Until next time…KMAC!
Suzanna
********************
King Ranch Salsa
Ingredients
2 cloves garlic
3 jalapenos, sliced (seeds included)
1 small white onion, quartered
1 14.5 oz can whole, peeled tomatoes, drained
1/4 cup extra-virgin olive oil
3 tbls white vinegar
2 tsp kosher salt (if you use table salt, use less)
Instructions
In a food processor or blender, mince garlic & jalapenos.
Add onions & process just until roughly chopped.
Add tomatoes & process until not quite smooth (you want the salsa to retain some texture).
Mix in olive oil, 2 tablespoons of vinegar & salt.
Let sit for a few hours.
Salsa will stay fresh in the refrigerator for three weeks. Be sure to date the container so you don't forget when you made it.