I hope you guys are able to see this guest post from the amazing Katie of Yes, I Want Cake. It's late Wednesday night on vacation and from a brief email scan it looks like the blog is having issues while I'm gone. 🙁 Katie has been a great new friend in Colorado, she recommended our real estate agent, helping us find a new church, and just enjoying beer with Kirk and I! Her recipe looks fantastic – I can't wait to try it myself. 😉
********************
I discovered the beautiful, wonderful, amazing zucchini noodle a few weeks ago and my brain hasn't really stopped creating recipes for them.
Can I cook them?
Can I eat them raw?
Can I make them like spaghetti?!
Can I make them like salad?!
Can I make them like ice crea…uh, nevermind.
But seriously. This is a dang good discovery. If you haven't already tried them (you probably have, I'm always behind on food trends)…I implore you to do so.
When I shared this dish with my husband (who eats like a meat-loving cave man) and told him it was going to be a guest post, he said yeah, it's really good. It's a lot of vegetables, though. I mean, what if Heather's reader's don't like vegetables as much as you do?
Then I told him the name of this blog and he said okay then, it's perfect.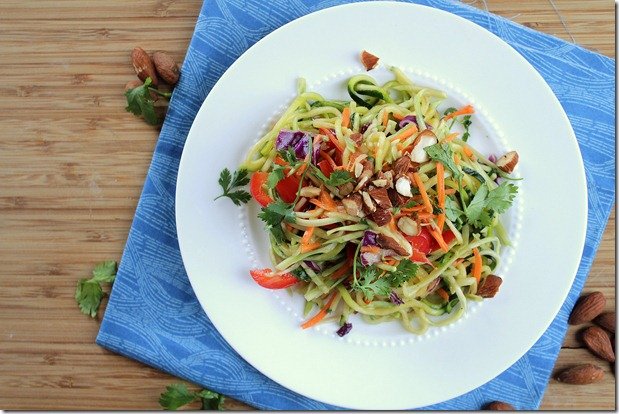 Asian Zucchini Broccoli Slaw
PRINT Recipe
Slaw
2 C shredded broccoli (I buy it in a bag)
1 C shredded purple cabbage
1/2 C shredded carrots
1 red pepper thinly sliced
1/2 C chopped cilantro
1/2 C chopped roasted almonds
2 thinly sliced (or spiral cut) zucchini + 1 T salt
Dressing
3 T vegetable oil

2 T maple syrup

2 T rice vinegar

2 T lime juice

1 T soy sauce or Bragg's Liquid Aminos

1 T sesame oil

1 T almond butter

1 T minced fresh ginger

2 cloves minced garlic

pinch of salt

pinch of red pepper flakes

1/4 C fresh cilantro leaves
Garnish: cilantro, almonds and/or roasted edamame (which I discovered was fantastic with the slaw after I took the photos)
Cut the zucchini first and put it in a colander. Sprinkle with salt and let set for 20-30 minutes. Then rinse the zucchini off, and pat dry. (You can skip this step, but it will make your salad really watery)
Combine all the ingredients for he dressing in a blender and blend until smooth. Transfer to a large bowl and then toss the salad ingredients in the dressing. Let it set at least five minutes, garnish, and enjoy!
Thank you to Heather for having me on her site today! My name is Katie and I blog over at Yes, I want cake. I am an elementary school teacher turned stay-at-home mama. I like healthy food, I have a raging sweet tooth, and I try to create recipes that incorporate both of those things. I also post an embarrassing amount of photos of my one-year-old daughter eating those recipes, making messes, and being heartbreakingly cute. I'd love to have you stop by and say hello.