No, this is not the long awaited, and slightly behind the times, movie review, or even an interview with Robert Downey Jr. during the making of the second film, but instead a slightly lower budgeted, but just as highly anticipated recap of my second Ironman race. For those of you that don't know me, I'm FITaspire's "silent" partner and, more importantly, Heather's husband. I've been racing triathlons alongside Heather for the better part of eight years and have enjoyed (almost) every minute of it. (Often mile 90 of the 100 mile rides aren't quite as much of a thrill).
I've been asked, prodded, and even cajoled (yes, cajoled) into writing my very own race review to give Heather some much needed blogging respite while she recovers from her insane travel schedule over the last month, so put on your esoteric reference hats and get ready for the ride. (editor's note: Yay – I win!!)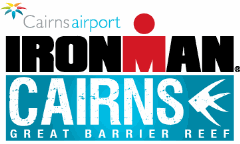 Although I'm sure most of Heather's typical readership is aware of what a triathlon, and possibly an Ironman, is made up of, I still like to give the basics just to remind even myself of what a single race day covers as this often helps prevent me from immediately signing back up the next day.
The race starts with an insane swim start simulated only by Blaze, Thunder, and Nitro from American Gladiators during a pugil stick battle royale which leads to a 2.4 mile swim with 2000 of your closest friends, followed by a 114 mile, I mean 112 mile (someone down there needs a new meter stick) leisurely bicycle ride along the Australian coastal highway, followed by a jaunt through the countryside and city of 26.2 miles culminating in one of the coolest and most dramatic sports moments I've ever been a part of…the Ironman red carpet.
So, now onto the good stuff.
This being my second time at the Ironman starting line, the nerves were still present, but not nearly as bad as the first time around. While this one was still a mass start like my first one in Germany, the serene setting and slight staggering due to a tight entry into the water from the dock, all helped to calm the (good) anxiousness that oft precedes an event like this. While I was making my way down the dock, BOOM, off goes the starting gun and away everyone went. About a minute later, I was in the water and stroking away towards the first buoy. After a hundred meters or so, I found my line and was in a groove.
The first lap sailed by pretty quickly and I just kept on moving around the buoys. The second lap started to get a little interesting with the winds picking up (don't worry, there will more about the winds later) and a little chop and rain. Nothing really to write home about, but it did cause me to breathe more on my left side than normal. Why do I even bother to mention that you ask? Well this led me to see the beautiful rainbow that had formed over the mountains on that side only and helped to push me through the second and final lap of the swim.
Out of the water, and happy, it was time to head to transition for the bike portion.
After working my way through the T1 changing tent, I grabbed my bike and started off on the long trek up to Port Douglas. After a few twists and turns, we left from the comfort of Cairns and headed out onto the coastal highway. This is where the scenery took over. Mountains on one side, open ocean on the other.
This view followed all the way up to the port turnaround where Heather had braved the open sea and mother nature to cheer me on.
What? Remember those winds I talked about earlier? Well, they were now rearing their ugly heads. Apparently Poseidon was not pleased this day and was sending 30-40 knot winds our way which were now sufficiently head-on. Needless to say, the pace slowed a bit until the next turnaround, but I kept just focusing on my race plan. After a stint into the headwinds, I turned around and made my way back up towards Port Douglas one more time for the final turnaround. Well about 15 kilometers from the turnaround something dramatic happened. I was passing through the aid station as I had done a number of times before hearing the typical calls for…Water! Electrolytes! Bananas! When I heard it…Coooookies! Yes, I actually stopped in the middle of the aid station for a couple peanut butter cookies. It was amazing and allowed me to refocus and push on towards the finish of the bike leg.
After a couple extra miles on the bike, it was time to move onto the final portion of the race. The RUN! I've heard it said many times, and had been recanting the mantra of steady pacing to myself on the bike to avoid becoming another casualty of the Ironman marathon, but Ironman dreams do live and die on the run course. After run-walking much of my marathon in Germany due to a wreck during the bike portion and 90+ degree temps, I was determined that this would not happen again.
The aid stations were about every two kilometers and I kept trucking through the neighborhoods and shaded paths in the outskirts of Cairns until I started down the open road faced only with asphalt and bordered only by sugar cane.  Now the mental game can into play. When faced only with your own mind and will with no outside influence to push you, how do you respond? On this day, my mental (read as slightly crazy) game was on target. I thank God for that!
I moved through the first 15 miles and on into the city lights of Cairns to be greeted by jubilant throngs of supporters, a pleasant tropical rain to cool things off, and best of all, Heather with a camera and a smile. I recall stopping for a quick kiss and made the most profound statement of the day.
"You know, this is a really long way!"
Heather and a few on-listeners chuckled and I was back to the task at hand. A couple of loops around the park and marina and it was time to head towards home. As I approached the final stretch, I could hear the announcer calling out names of those that came before me and I was ready for the same. It was time to head down the red carpet. High fives and uncontrollable smiling ensued.
And then…from the United States of America, Gregory Blackmon – You. Are. An. Ironman!
Thanks for sticking with me during the race recap of my Ironman and allowing me to re-live the experience. It is one that I truly will not forget anytime soon.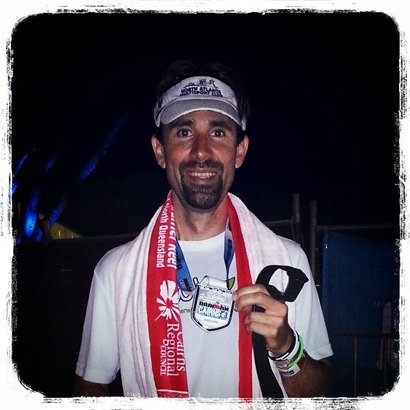 *********************
Questions for you:
Have you ever done (or spectated) a long-distance triathlon?

If you were going to race in a foreign country, which would you pick? And why?! 🙂