It's technically not winter yet, but there's plenty of snow on the ground here in Colorado that says otherwise. While I'm sure it will be sunny and melt away soon, it does bring up the topic of indoor cycling workouts! It's much easier to run outside with snow on the ground than it is to take a road or triathlon bike out in those conditions.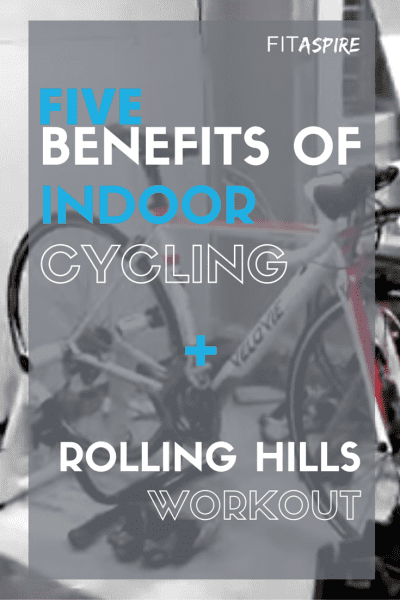 Time for some quality time on the trainer. But before you start groaning, let's focus on the benefits of your indoor time in the saddle.
Benefits of Indoor Cycling Workouts
Controlled Environment: you can choose the temperature & the wind (with a fan). You can ignore the weather forecast and create the conditions you want (or need).
No stop lights or stop signs: A trainer is basically an endless road with no obstacles to slow you down. No need rush through the stoplight turning red or clip & out at every stop sign.
Entertainment distractions: The winter is when I catch up on all the movies I've missed and any TV series I enjoy, because it's the perfect distraction for indoor workouts! If you're a music fan, you can jam out without worrying about traffic. Or catch up with your favorites (like me!) on Periscope!
A Perfect Workout: You control the terrain on the trainer – hills, flats, heat, cold – you can set it up exactly as you need for the workout. And you won't have to slow down when you hit the end of the road. Your perfect workout conditions, every time.
Less Wasted Time: Have you ever added up the time it takes to gather your gear and get ready to ride? This is reduced when your bike is already set up on the trainer. No sunglasses or helmets needed. And there's always a bathroom nearby when you need it!
Now I'm not advocating for indoor workouts over outdoor workouts, but they both have their place. And I've trained successfully for several races with 1-2 indoor cycling workouts per week on my schedule.
[Tweet "5 Benefits of indoor #cycling #workouts. #triathlon"]
Rolling Hills Workout
Need some inspiration for your next indoor cycling workout? Today I'm sharing a 50 minute workout that simulates rolling hills (as you might encounter on an outdoor ride). This is one of those workouts that could fit into your schedule in different forms throughout the year, depending on your training goals.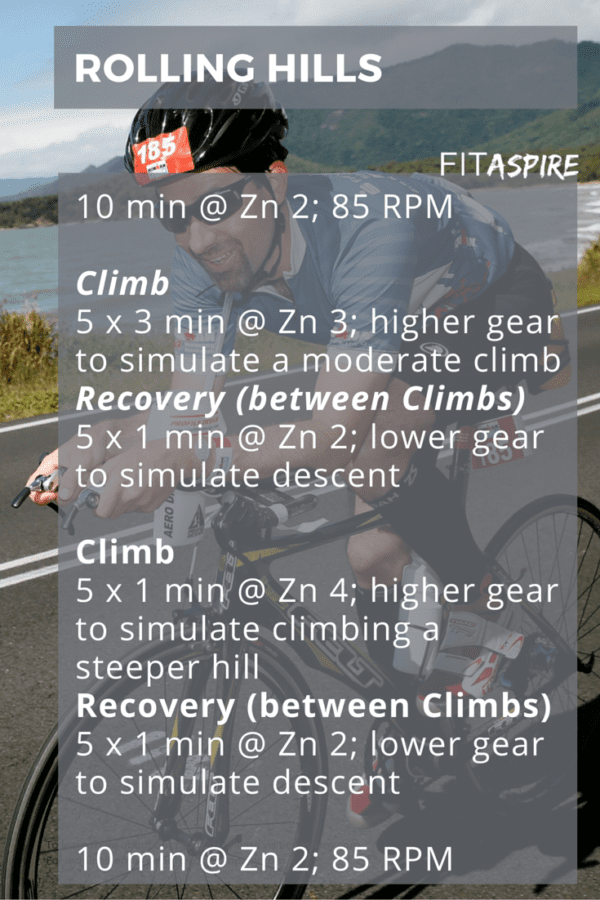 Workout Details
You can use heart rate zones or power zones for this workout, depending on your equipment. Since you're on the trainer, you can set your phone next to the bike with this workout pulled up for easy reference.
[Tweet "Try this rolling hill #workout on the trainer. #cycling #triathlon"]
After the 10 minute warmup, you'll ride through two sets of hills.
The first set will simulate a moderate climb, so you'll up your gears to match a Zone 3 effort. Alternate 3 minute climbs with 1 minute descents, before getting a break on the flats. The next set of climbs will be steeper, so you'll increase your gearing even more to a Zone 4 effort. These hills are also shorter, just 1 minute of climbing before 1 minute of descent.
Wrap up your ride with a 10 minute cooldown at a Zone 1 effort.
For more workout inspiration, see the full archive of workout resources.