Several years ago, I struggled through a number of running injuries. Issues with my IT Band, piriformis, foot pain…they are all connected and I fought through every one. As I worked through these issues and learned more about running, I added habits to my training plan to prevent these issues from coming back.
Through this time, Kirk and I added these habits to our athletes training plans and found similar results. Training injuries virtually disappeared, once these habits were adopted. In our own lives, it's been years since Kirk and I battled an injury from running or triathlon training!
FREE Live Training
Have you been training for a race PR, only be derailed by another injury? Are you chasing a big goal this year and want to avoid common running injuries? None of us have time for injuries and there IS something you can do to prevent common running injuries, so you can finally reach your running goals!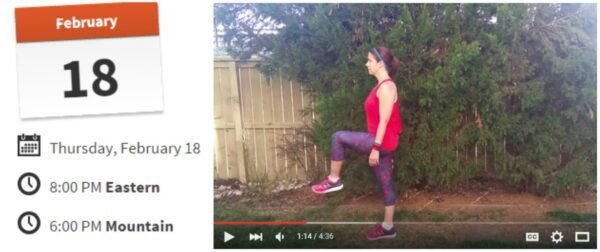 On Thursday, February 18th – I'll be hosting a FREE training on the 7 Habits help YOU become an Injury-Proof Runner. This will be an interactive session, giving you all the details on these habits in the first 30 minutes, followed by time for live Q&A to answer your questions. This is going to be so much fun and I can't wait to help you make these your habits too!
[thrive_leads id='27117′]
Bonus Instant Download
When you register for this FREE training, you'll also get access to my long run warm-up routine! You'll get a video that walks you through the Nueromuscular Activation (NMA) & Dynamic Exercises I recommend to get you ready for your long run. Plus a cheat-sheet that explains why this style of workout is ideal for runners and a description of each exercise to accompany the video.
[Tweet "7 Habits of an Injury-Proof Runner <–FREE webinar training! #fitfluential"]