As you know by now, I'm currently training for my second bikini (physique) competition. Going into my first show last year, I didn't know much about what to expect and I learned a lot as I was going through the process. Since I've gotten a lot of questions about competitions recently, I thought it might be good to share some of what I've learned with you! If you're thinking of competing, there are four things that I recommend you consider in choosing your first show.
Coaching
Finding a good coach is THE most important part of competition prep. I wouldn't recommend coaching yourself (especially at the beginning), as training for physique is very different than many other training styles. You want someone who is qualified to plan both your training and your nutrition, in a healthy and balanced way. There are lots of coaches out there who will slash your calories and overschedule you in the gym to make you hit your goal is the shortest time possible. Don't do that to yourself! Find someone who cares about your long-term health and can help you achieve your goals in a way that is healthy. How do you find a good coach? Ask for recommendations and then ask potential coaches about their philosophy. Do they rely on fat burning supplements and hours of cardio, or do they focus on sustainable changes? You are worth the extra time in finding the right coach!
Location
There are fitness competitions happening around the country throughout the year. For your first show, however, you might find it easier to choose one that is in your area. Although I love to travel, removing that worry about logistics will simplify things. When you're at home, you have easier access to your own food and are in familiar surroundings. If you have the option, I would recommend a show within driving distance. If that's not possible, I would pick a location that you've been wanting to visit. You might as well make it a fun experience, if you're going to be traveling anyway!
Style
The largest amateur federation is the National Physique Committee (NPC). This was the group I chose for my first competition, because it there was one in my area just a few months after I decided to go after this goal. For this federation, you'll compete in a bikini and clear high heels. This is what most people picture when they think of a fitness competition. The professional side of NPC is the International Federation of Bodybuilders (IFBB).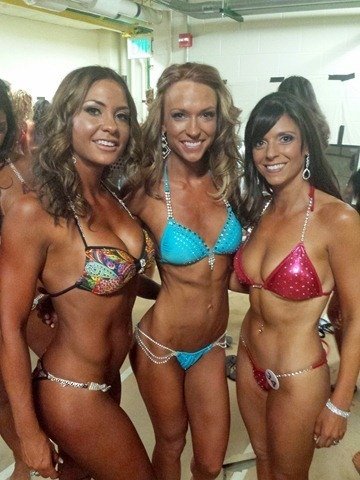 Amanda, Alysha, and me!
Another federation you may want to consider is World Beauty Fitness & Fashion (WBFF). For this federation, you'll compete in a bikini and colored high heels. Depending on your division, you'll also compete in a formal dress or costume. This is the group I have chosen for my second competition, as they are coming to Denver for the first time. My coach is also a pro in this division, which helps in my prepping for the stage. There are several other federations, although I don't have much knowledge about them. There is an overview of all organizations on Bodybuilding.com that might be helpful.
Cost
No matter which federation you choose, competing is not a cheap sport. Not only do you need to factor in the cost of coaching, but there are other costs to consider:
Federation License: $100 – 120 per federation (once yearly)
Registration Fee: $100 – $200 per class (each show)
Shoes: $40+
Jewelry: $40+
Bikini: $150+, depending on the style and amount of bling.
Dress or Costume (for WBFF): $200+ (including alterations)
Tanning: $100 average
Hair & Makeup: $100+
[Tweet "4 #tips for choosing your first #bikini competition from @FITaspire. #FitFluential #bodybuilding"]
If you're trying to minimize costs, I found NPC the less expensive option, although I also found it a very disorganized experience. I'm sure that's not a universal experience, but it did play into my decision to move to WBFF this year. I'm planning to use the same bikini as last year (although I will need to add more bling for WBFF), which will help minimize extra costs.