I hope you had a wonderful Thanksgiving and are lucky enough to have the day off of work today to enjoy a little break. I am very happy to be in that group, especially since today is my also my 34th Birthday!! I couldn't let the day pass without at least sharing that I'm another year older with you. I'm expecting to actually celebrate with Kirk tomorrow, ending the day with a Mannheim Steamroller Christmas. I promise to share more on that at some point tomorrow.  And now on to the latest edition of How to Balance Fitness + Life from another Heather!!
*********************
A few weeks ago, I kicked off a new series at about balancing fitness & life! I think this is something many of us are working on, so I want to get different perspectives on how others approach it. My hope is that if we discuss our experiences with this balancing act here, we can learn from each other! You can read all the posts in this series here. Enjoy!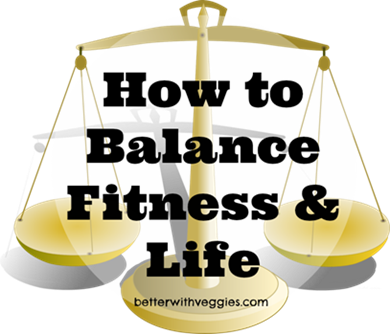 ********************
Hi! For those who don't know me, I'm Heather Iacobacci-Miller. I blog at Where's the Beach where I share my passion for healthy living, which includes healthy vegetarian and vegan recipes, my love for running and weight lifting, along with many random tidbits about my life. I am an ISSA Certified Fitness Trainer and RRCA Certified Running Coach. I love sharing my enthusiasm for fitness and healthy living with others, so I recently started  Where's the Beach Fitness, LLC, an online and in-person fitness training and running coach business.
Talking about balancing life and fitness this time of year might seem rather laughable huh? For me, however, keeping that balance even during the craziest of days, weeks, months helps keep me feeling somewhat sane.
I often hear people say they don't have time to workout. Life's too crazy. I honestly feel that if something is truly important to you, that it's a priority, you'll find a way to make it happen.
I think that it's also important to remember that maintaining balance means constantly shifting your weight around, so to speak. Think about it. No, stand up and try it. Stand on one leg. Then move an arm. Then the other arm. Go on, I'll wait for you.
Ok, what happened? How did you maintain balance while moving your arms? You shifted your weight most likely. You might have teetered and you might actually fallen. But you regained your balance at some point.
I think that's how life is. You have to move things around constantly in order to find your balance. That might mean that if it's a crazy week at work, you have to back down on the miles you run or the time spent in the gym. And that's ok. It's ok because you are still moving. It's still one of your priorities. It just had to be adjusted.
For me, I had to learn to be flexible with my fitness. Not an easy thing for a super Type A personality. I thrive on rigid structure. Or, I thought I did. I used to schedule everything out to the minute. Little room to spare for life's little interruptions. This made me far more stressed out I finally realized.
If something didn't go exactly as planned, it threw off everything. And I was left in a frustrated snit. I finally had to learn that I could schedule and plan, but to have back up plans for those "just in case" moments. So if I couldn't run in the morning, maybe I could run in the evening, or maybe it was a totally different workout. But it was still scheduled in. I was just flexible about it. Talk about relieving yourself of a lot of pressure.
For some, fitness isn't a top priority. I, however, feel that it really should be. Fitness is about being healthy, doing something right for our bodies. Moving, staying active. Health should be a top priority for all of us. You want to live longer and be stronger for your kids, your husband, your family, yourself.
But we all have to work, we have errands, chores, we get sick, we get into funks, things happen. This is when you have to start to readjust again. Find that new balance.
It took me a long time, but I finally let myself relax on so many things. So, now I try to do what I must do. I get done what has to be done, and if some things don't make the list (like folding clothes), that's ok. The earth will continue to rotate. Shocker right? It was to me!
Finding balance means learning to …
Adjust and readjust
Have a backup plan (or two)
Prioritize what's most important
Say no
Ask for help
Let it go
Relax
Enjoy
How do you find your balance with life and fitness, or life in general?