A few weeks ago, I kicked off a new series at about balancing fitness & life! I think this is something many of us are working on, so I want to get different perspectives on how others approach it. My hope is that if we discuss our experiences with this balancing act here, we can learn from each other!  You can read all the posts  in this series here. Enjoy!
********************
Hey Better with Veggies readers, We are Lori and Michelle. We are twin sisters who blog over at purelytwins. We are honored to be a sharing how we balance fitness, life, and work. We love this series that Heather has put together.
Little bit about us: We are busy girls just like everyone else. We run our own business, which entails a lot of things as we do more than just one thing. We create weekly youtube videos. We create recipes. We self-published cookbooks. We write over on purelytwins.com daily. We work for Raw Threads, an athletic wear company. And recently have created Purely Fit Life a home workout program.
How do we do it all? Wish we could tell you we have a nice system that works 😉 Honestly, we do our best to prepare. We live in the moment knowing that each day is different for us. And we tell ourselves daily – NOT TO STRESS. Whatever we are working on we focus on it and give it our all. We like to make the most out of each thing we are doing. We aim to be effective in the least amount of time. Both of us believe in living life. Live in the moment, whether that is work or doing something for you. Give it all your attention. Be passionate about it. Do one thing at a time. Remember to always love what you do. And do what you love!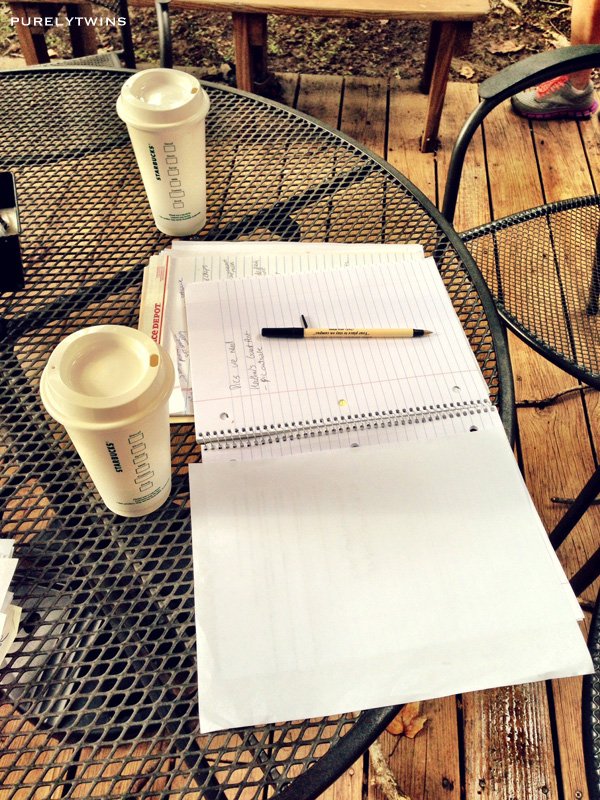 Here are our tips to balance life, work, and workouts:
1) Flexibility
Be flexible. Learn to adapt. The more adjustable we stay throughout the day, the better we do at balancing everything. What we mean by that is… we don't have a rigid schedule. We generally know what we want to get done each day and work hard to make it happen. We have our to-do lists (okay we have like 5) and get moving. Balancing fitness and work comes down to finding ways to make it work throughout the day. And be okay when something goes wrong or unplanned. Always be on your feet ready for anything that comes your way as we've realized that each day is different.
2) Desire
If you want something bad enough you will find ways to make it work. Your goal has to be desired enough that you will find ways to make it happen. If you really visualize yourself accomplishing that task you will do it. You need that passion to overcome any obstacles that come in your way. We are very lucky that most of the work we do we get to do in the convenience of our own home. Yes working from home has many advantages but also has MANY distractions. And we both get easily distracted….as we love to do it all. We love to workout. We love making recipes. We love talking and helping others. We love researching and reading up on health and fitness trends, etc. But we also have the strong desire to reach our goals that our distractions will not stop us. Just maybe slow us down a little. Somehow it will all just come together.
3) Focus
Do one thing at a time. Set mini goals. Tackle those projects. Take that pressure off yourself that you have to do it all right now. Something that we struggle with. We constantly have to remind ourselves that the more we just focus on ONE thing the better we are at actually get things checked of our multiple to-do lists. Sometimes being multi-tasking is not always the best thing.
4) Schedule
Put it in your calendar. Schedule your workouts in your busy work schedule and fit in fun time to enjoy your life. Realize you need balance with them all. But again going back to point #1 – remember that sometimes your work life might need more attention. Allow yourself that break. And get refocused. And get back to your schedule once done with that unexpected thing.
5) Fun
Squeeze in some fun whenever we can. We make our work FUN. We make our workouts FUN. We look for making every moment in life FUN. Yes yes yes we are not 100% perfect at doing all that. But we try.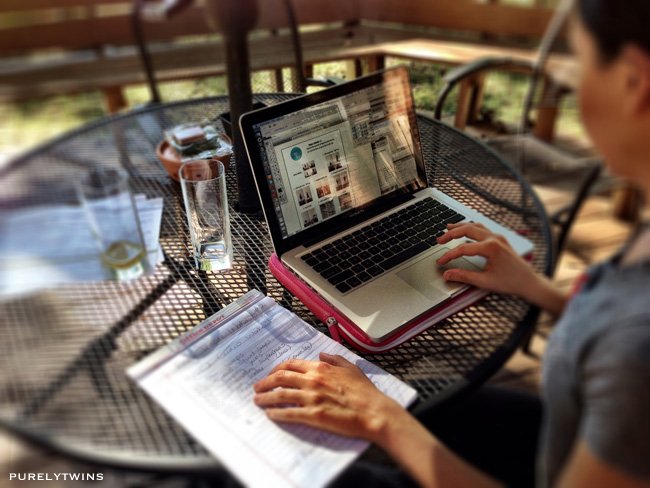 Our biggest life balancing lesson to remember: Stay focus on just one thing. Make little goals to reach that one thing. Believe in yourself that YOU can DO it! Take the pressure off yourself from doing it all right now. Realize that you need to make time for doing your WORK, living your LIFE, and doing your WORKOUTS to create better balance in this crazy world.
Also remember that sometimes life gets in the way where your work may suffer or your workouts stop, but shake it off. Get back to it when you can. Don't stress. Take care of what you need to take care of in that moment. Because your desire will bring you back.
Thanks again Heather for letting us be apart of your balancing fitness and life series. We are honored. Come over to purelytwins and say hi!
Lori and Michelle, the purelytwins
********************
Questions for you:
Which tip resonates with you the most?
What's one way you balanced fitness & life this week?