A few weeks ago, I kicked off a new series at about balancing fitness & life! I think this is something many of us are working on, so I want to get different perspectives on how others approach it. My hope is that if we discuss our experiences with this balancing act here, we can learn from each other! You can read all the posts in this series here. Enjoy!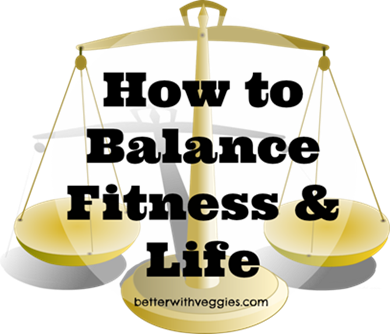 ********************
Hi, guys! My name is Janetha and I blog over at meals & moves. I am happy to be Heather's guest blogger today!
As you know, Heather has been featuring posts on how we balance LIFE and FITNESS. Let me tell you a little bit about my background. I didn't get into fitness and living a healthy lifestyle until 2008. Before that, my life was full of beer and fast food. A gym membership was out of the question! My only form of exercise was snowboarding and bar hopping. After a snowboarding injury, I gained a substantial amount of weight and wanted to do something about it, so I started a 12-week diet & exercise program. The fire was lit and my passion for health and fitness has burned ever since!
Over the years, I have gradually become more and more busy. Gone are the days where I didn't have many responsibilities (or bills!) and I could do whatever I wanted, whenever I wanted. Going to the gym for over an hour a day was no big deal, I could do that and still come home in the evening with a few more hours to kill. But, like I said, I got busier and busier as life went on. I got married, I bought a house, and I am now holding down a full time job and two part time jobs. Squeezing in fitness has become more of a chore than a luxury.. unfortunately! And, because I am now working on that whole starting-a-family thing, I know my time will be even tighter in years to come.
My motto for balancing life and fitness is a simple one:
Something—ANYTHING—is better than nothing at all. Sure, in an ideal world I want to get to the gym 5-6 days a week and have an hour-long workout each time.. but that's just not physically possible! Side note: I don't do morning workouts.. I have tried. I have failed. And I know people say that it's all in my head and I CAN be a morning worker-outer.. but I am taking a stand and saying NO. I love sleep (sleep is important!) and fitting in a workout before work is just not happening for me. Anyway, because I don't have all the time in the world, I have to fit my workouts in when and where I can. After all, 5 minutes here and there adds up and is way better than doing nothing.
Here are some of the ways I fit in fitness and balance it within my life's demands.
1. Invest in at-home workout equipment.
Sometimes we just don't have time to make the commute to the gym or the time that one of our favorite fitness classes happens to be doesn't fall in line with our schedule. But most of us DO have at least a few minutes of downtime at home—I'd go as far to say you probably have thirty spare minutes at home. That is more than enough time to get a great workout in.
I personally own quite a bit of at-home fitness equipment. I have a pull-up bar, a jumprope, a set of kettlebells, some dumbbells, a BOSU ball, and a stability ball. This makes building at-home workouts fairly simple. However, if you are starting from scratch, I strongly suggest you invest in a kettlebell. 25# is a great weight to start with. Kettlebell moves not only help build muscle, but also get your heartrate up and increase your cardiovascular endurance. Some of my favorite kettlebell moves include the classic swing, upright row, single leg deadlifts, and tick-tocks.
If you can't justify buying any home workout equipment, you aren't off the hook! There are plenty of body-weight movements you can do. I like doing body-weight stuff tabata style, which means you do 20 seconds of work followed by 10 seconds of rest for 8 rounds. Yep, that means one set of tabatas is just 4 minutes. It'll get your heart pumping and your muscles burning. Some great body-weight moves for tabatas are push-ups, mountain climbers, air squats, and triceps dips. There are several tabata timer apps available for smart phones! Here is a kettlebell tabata workout I designed—it's the best of both worlds! (For a full description of the moves, see this post.)
2. Do sprints or HIIT.
If you do make it to the gym and want to get in a quick but effective cardio workout, consider doing sprints or HIIT (high intensity interval training.) These two types of training not only burn more calories during the workout, but also during the "afterburn". For sprints, I like to run as fast as I can (on the treadmill) for 30 seconds, then hop off to the sides for 30 seconds. I typically do this for 20-30 minutes. For HIIT, my favorite treadmill routine is this: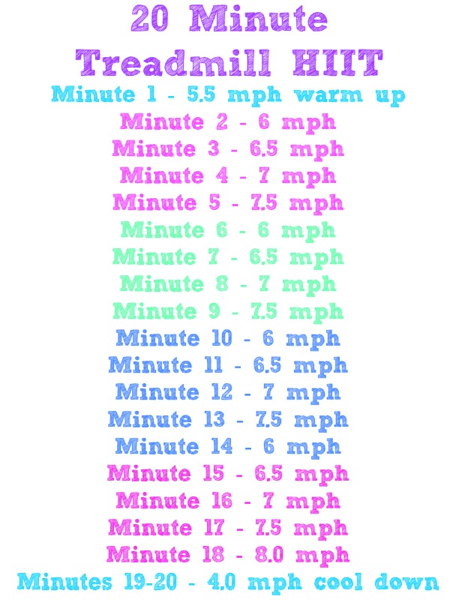 You can see more HIIT routines on my blog.
3. Give it 100% EVERY time.
If you show up for a workout, GIVE IT YOUR ALL. You are making the time to get it done, so don't half-ass it. It is going to take the same amount of time whether you put in 70% effort or 100% effort, so just do the damn thing and give it your all. You will get better results by busting your butt than if you showed up and just went through the motions. I promise, your body will thank you.
4. Combine fitness with fun.
The whole reason we strive to be physically fit is so we can enjoy our fitness outside of the gym. Right? I mean, you aren't training on the treadmill or the lat pulldown machine in order to use that fitness within the gym walls. Combine your free time with fitness-based activities! Instead of going to a movie, go indoor rock climbing! Instead of going to dinner, go on a hike and have a picnic. It's always a good idea to combine fitness and fun—remember, fitness improvements don't only occur within the confines of your designated workout.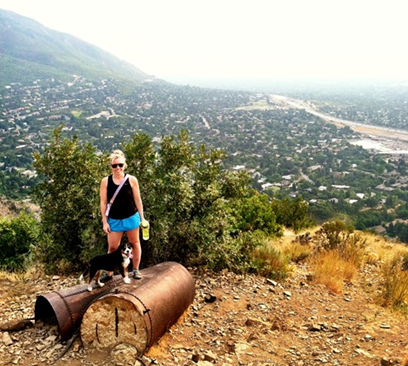 Hiking with my pups in beautiful Salt Lake City!
5. Pat yourself on the back.
YOU ARE TRYING. You are working out when you can. That is a lot more than a lot of the nation's population. I'll be honest—the majority of my acquaintances (not on blogs—but in "real life") don't work out. Ever. At all. So if you are getting a workout in 3 days a week, pat yourself on the back. You are doing better than most people.
Remember.. something is better than nothing. So just squeeze something in when you can! Those are my tips for balancing life and fitness. I hope you put at least one of them into motion in YOUR busy schedule! Happy holidays and thanks for reading!
-Janetha G.
*******************
Questions for you:
Which tip resonates with you the most?
What's one way you balanced fitness & life this week?