A few weeks ago, I kicked off a new series at about balancing fitness & life! I think this is something many of us are working on, so I want to get different perspectives on how others approach it. My hope is that if we discuss our experiences with this balancing act here, we can learn from each other! You can read all the posts in this series here. Enjoy!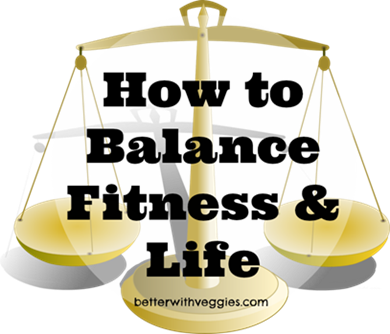 ********************
Hi friends! Well, as I sit here typing this post about balance, my life is pretty unbalanced. It's one of those weeks. In fact, it's been one of those months. If there is one thing I have learned from the past and how to balance the unbalanced, it's to not stress about it, but also to be realistic. Not everything is going to get done. And some things will be "half-assed" … ahem, pardon my French.
My life is not balanced at the moment but it is getting there. I'm re-evaluating, re-prioritizing, and re-focusing.
Some questions I ask myself (hint: you can ask yourself these too, they help.)
What do I NEED to get done? A MUST.
What do I NEED to say no to?
Am I neglecting anything important (friends, family, my health)?
Do I need help with certain projects? If so, I need to get off my high horse and ask for it! We are not superwomen/men.
Is there anything that I can put off for now and focus on later?
For me, it's usually one of my many jobs. I have month's where I am slammed and I don't ask for help. Then my husband is neglected and I turn into Cruella de Vil . Not good.
So… here's my plan NOW after I asked myself these questions.
Take a sabbatical from "extra" work. Yes, I am allowed. Maybe just a week, maybe two.
Do not say yes to subbing more classes.
Take TIME to disconnect and go visit family and be silly with my nieces/nephews, or just go on a date with the husband.
Take the help, my husband and my mom have both offered. (They are lifesavers)
Don't focus on any specific training right now. Just keep fit and enjoy daily activity. No need to stress about an event when I am already doing too much.
BE real. BE thankful. BE HUMAN.. Remember à we are not superhuman. Those don't exist.
Okay, now that I've typed that out, I feel better. I feel somewhat "put together." Haha. You believe me right?
Bottom line, be realistic and get to the bottom of the unbalancing act. You'll find the key to being balance is always a good foundation (aka motive).
Cheers,
LC
P.S. – Here's a good read on balance you may also enjoy: http://www.girlfriendsingod.com/2013/stop-drop-roll-3
*********************
Questions for you:
Which tip resonates with you the most?
What's one way you balanced fitness & life this week?