A few weeks ago, I kicked off a new series at about balancing fitness & life! I think this is something many of us are working on, so I want to get different perspectives on how others approach it. My hope is that if we discuss our experiences with this balancing act here, we can learn from each other!  You can read all the posts  in this series here. Enjoy!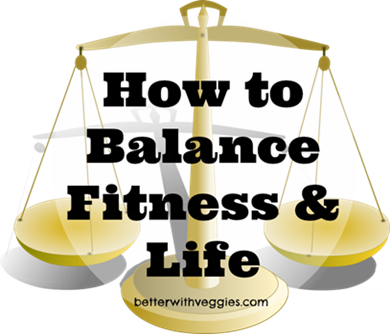 ********************
Hello everyone! I'm Kait, and I blog over at
Chickadee Says
, my little corner of the Internet where I share my take on healthy and holistic living!
A bit about me: I'm a recent Denver transplant by way of (mostly) the East Coast and have absolutely fallen in love with Colorado. I thrive in the outdoors, and you'll often find me and my pup Tinkerbelle gallivanting around anywhere with fresh air! I've also been an athlete my entire life; I started playing soccer as a toddler, picked up sprinting along the way, and was on the track through my freshman year at college. And now, I'm currently immersed in a yoga teacher training program where I plan to focus on pre- and post- natal yoga!
My Fitness Perspective
As an aspiring yogi I have really had to think about what role fitness plays in my life. I have lived at both extremes of the fitness/life balance spectrum- when I was younger fitness was my life and after I stopped competing in college it was non-existent. At both extremes I felt very lost, like something was missing. Moving to Colorado and re-focusing on what makes me happy has really filled that void.
I think the most difficult thing about a fitness-life balance is finding the combination that works for you. Working out the balance that benefits you the most is a long process of trial and error, especially because what makes you feel happy and fulfilled is constantly changing. One thing I love about yoga is that the study of yoga as a whole, rather than just the physical asanas (poses) is that it gives you a bit of a cheat sheet to finding your balance. In studying yogic philosophy we see that there are eight limbs of yoga, only one of which is the physical practice so that your physicality is backed up by a number of emotional foundations that keep you grounded.
Tips for Finding a Fitness-Life Balance
While I absolutely echo the tips of the lovely ladies who have been part of this series before me, (especially Heather's '
find your motivation
' and Paige's '
skip the workout
' tips) I thought it might be fun to share a few tips that stem from the practice of yoga!
1. Build your Foundation.
In a purely physical sense, you will crumble out of a pose that lacks a strong foundation- I have quite a few bruises to prove this! When you focus on placing your feet and creating strength from the ground up, you will feel steadier and be less likely to fall. The same sentiment can be echoed in everyday life. Build a foundation of what makes you happy before branching out. Say you want to run a marathon, you wouldn't want to hop from running two miles three times a week to running ten miles a day, both you physically and your home-life would suffer. But if you gradually create your foundation (lots of which is support from family and friends!) and build on that foundation you are much more likely to succeed.
2.
 

Ahimsa.

Translated from Sanskrit, ahimsa means non-violence. However, in many understandings of the word it is thought of as not causing pain. Simply put, take the time to listen to your body and mind, they will tell you what is right for you. You know deep down the balance that creates joy in your life, when you work to not hurt yourself (not overworking your body and giving it time to rest) and spread your joy to those you love (giving yourself time to share love and hugs and maybe a cocktail!) you can create balance.
3. Build Your Community.
There is a reason that so many yoga studios and gyms have popped up all over our world. People need people. When you let yourself be surrounded by the energy of a community of like-minded individuals (read: healthy and fit!) there is a give and take of experience that can motivate and spread happiness! And take your community out of the gym; grab a group of friends and pups and plan a hike or football game! There is no rule that says you need to stick to a routine- give yourself time to feel like a kid again and play!
Balancing fitness and life is all about what makes you happy and when you find that, spreading that joy to those around you!
********************
Questions for you:
Which tip resonates with you the most?
What's one way you balanced fitness & life this week?