I can't believe this whole week has gotten away from me and I haven't had a moment to write! I have literally been going from the moment I woke up to going to bed (WAY too late for this girl – at least midnight all week!) since Monday. I plan on writing up a storm over the next few days, so I promise to share with you about the competition and an AWESOME and fun challenge that I have planned for you in December. Just hang on a few more days! In the meantime, it's time for the latest Balancing Fitness & Life guest today.
********************
A few weeks ago, I kicked off a new series at about balancing fitness & life! I think this is something many of us are working on, so I want to get different perspectives on how others approach it. My hope is that if we discuss our experiences with this balancing act here, we can learn from each other! You can read all the posts in this series here. Enjoy!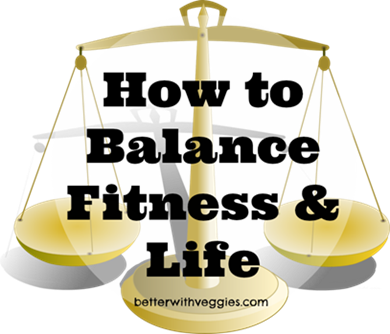 ********************
Balance. It's a buzzword, it's something we think other people have, it's something we all wish we had. From time to time life seems to get out of balance; stress at the office rises, it seems all our time is spent shuttling kids to activities, we're in front of the computer too much, our social calendar is bursting at the seams. This time of year is a prime example of life being out of balance, and often we begin the New Year every 365 days by committing to find balance yet again. But what if we went into this busy season more mindful about how our life is balancing out, fitness- and otherwise?
I'm forced to reflect on balance and it's presence (or lack thereof) in my own life right now as I'm on the cusp of travel for Christmas, dealing with a full client load as a personal trainer at the gym, wanting to squeeze my own workouts in and spending time with my husband, friends and making time to be present in many relationships. Here are a few thoughts I would add (to the already amazing mix of guest posts about balance on Heather's blog!) when it comes to balancing life and fitness.
My first tip is the foundation to your balance in both life and fitness, and is this: Be honest about your goals. You're only as fit, as smart, as strong, as well-read, as trim, as driven, as healthy as you want to be. The choice is up to you, but first you need to determine what your goals are and be honest about what it will take to get there.
The truth is, you might need to be stricter in some areas of your food or fitness for a period of time if you're trying to focus on weight loss, for example. I think sometimes we let ourselves off the hook by saying "It's about balance! All things in moderation!" which is fine for some or for a while, but if we then complain about how we're not where we'd like to be with our fitness goals or eating habits there is a disconnect going on. Balance is great, but we can't have it all! So be honest about what your goals are; what you put into your fitness and food habits (or don't) is what you'll get out of it.
That being said, I must admit that I am a proponent of moderation. 😉 This is where the balance comes in and we would do well to follow a few guidelines to keep that balance in the different areas of our lives:
– Have grace with yourself. We can't do it all, and there are times when work will win out or when you will get that workout in at the expense of work. Beating yourself up for missed workouts or saying no to meeting friends out doesn't help you with your goals and often will set you back and keep you out of balance. Move forward, with grace for yourself, but…
– That being said, stay consistent with your movement. Don't skip a workout just because you feel like it. Remember the value that comes with consistency. Maybe you're lacking motivation? Pump some tunes, find a workout friend, get accountable and get back to that consistency. Balance in this way is a choice, and it's not always going to be the one you want to make, but stick with your workouts and remember that, as we all know, you will likely feel better post-workout!
– Listen to your body (more on this idea in this post). Some days you're going to give in: you might need more sleep – maybe skip the gym and if you sleep in past your alarm it means you needed the rest! You might enjoy that cupcake instead of another glass of water or, on the flip side, might have more energy to push harder one day as compared to the next.
– Think about more daily movement, not extreme workouts, especially in a busy time of life. Exercise doesn't have to be "extreme." Again, it comes down to your goals, but take some pressure off and believe the research that says that movement, even a 20 minute walk, has huge psychological and physical implications for your body. Especially as we approach a typically busy season, remember that finding ways to fit movement in will keep your body active, fit, limber and functioning well even if you don't have time for a long run, choose not to brave the snow outside or don't make time for a long strength training session.
You can see it's a bit of a tug-of-war between pushing and backing off, between choosing A or B. And that's balance! Some days will be more of one thing than another, and that's part of how it is; coming to terms with this back-and-forth nature to our pursuit for balance, especially as it concerns fitness in a world filled with extremes, is part of the journey.
As a final encouragement, I urge you to look at the bigger picture. This reminder really incorporates everything into the concept of balance. Life is bigger than if you skipped your workout today, life is bigger than how your abs are coming along – not to discount your workouts, eating habits, or your goals at ALL! But think about the many other aspects of life: how are your stress levels? Are you fueling your body well? What gives meaning to your life and defines you? How connected are you to a community who is supportive of you as an individual? Do you experience meaning in your work or your home? Connectedness is so important for balance in our lives, and while these are big questions to ask, they are valuable to think on.
Look at where your fitness fits into your life. Is it PART OF your life or the main FOCUS OF your life? Fitness should enhance your life, bottom line! It's a process to find what works and how to get there, and that balance will continually shift as life changes (getting married, changing jobs, a diagnosis, having kids…all these changes will affect our balance).
Fuel smart. Work well. Enjoy people. And allow fitness to help you live life to the full! Have a fun, balanced weekend. 😉
Bonnie
*********************
Questions for you:
Which tip resonates with you the most?
What's one way you balanced fitness & life this week?