For the past few months, I've been eating a lot of soup. This is one of those phases that I expect to pass, but in the meantime bring me all the Faux-Pho and Vegetable Soup I can get my hands on. Or in this case, all the Hot and Sour Ramen Soup that I can make!
This recipe is a hybrid of what started as two soups I made. When I realized how easy it was to make the hot and sour flavor, I decided to give into the ramen craze. These aren't exactly upscale noodles, though, as I just grabbed ramen packets off the shelf and threw away the "flavor packets". When I found gluten-free ramen noodles at my grocery store, I KNEW this was one I had to share! The resulting soup is something that you can bring to the office for lunch or make on a chilly night for guests. Or really anytime you're craving soup.
I've made this recipe several times now in several different ways. For my vegetarian friends, you'll want to use veggie stock as the broth based. The beef broth version has nice earthy flavors, but it hides the sour flavor more than the other options. The chicken broth was my personal favorite, but they were all good!
Hot and Sour Ramen Soup
Cuisine:
vegetarian, gluten free, asian
Author:
Ingredients
For Soup
1 tablespoon sesame oil (or extra virgin olive oil)
1 inch ginger, grated
8 cloves garlic, minced
1 teaspoon szechwan season
4 tablespoons sriracha
8 cups veggie, chicken, or beef stock
2 teaspoon tamari (or soy sauce)
2 tablespoon lime juice
2 teaspoon sugar
salt & pepper, to taste
3 packages ramen noodles (or [url href="http://www.lotusfoods.com/index.php/products/rice-ramen/" target="_blank"]rice ramen[/url], for gluten-free)
For Tofu
2 tablespoons tamari (or soy sauce)
1 tablespoon sriracha
1 block tofu, extra firm
Instructions
Preheat oven to 375 degrees. Press tofu between two cutting boards or in a press.
Prepare Soup
In a stockpot, mix together oil through sriracha over medium heat. Bring to a simmer and add remaining ingredients (through salt & pepper) and stir well. Bring to a simmer and then cover. Allow to simmer while the rest of the meal comes together.
Prepare Tofu
Mix together tamari & sriracha in a small bowl. Remove tofu from press and cut in half (longways), then into cubes. Stir together sauce and tofu to coat. Spray cookie sheet with cooking spray and lay out tofu in a single layer. Bake for 20 minutes.
Assemble Soup
Add noodles to simmering broth and soften for 3-5 minutes (according to package directions). Stir in tofu and then divide evenly between 4 bowls. Top with bean sprouts, green onions, and cilantro (optional).
[Tweet "I can't wait to make this Hot and Sour Ramen Soup #recipe (#GlutenFree #Vegetarian options!)"]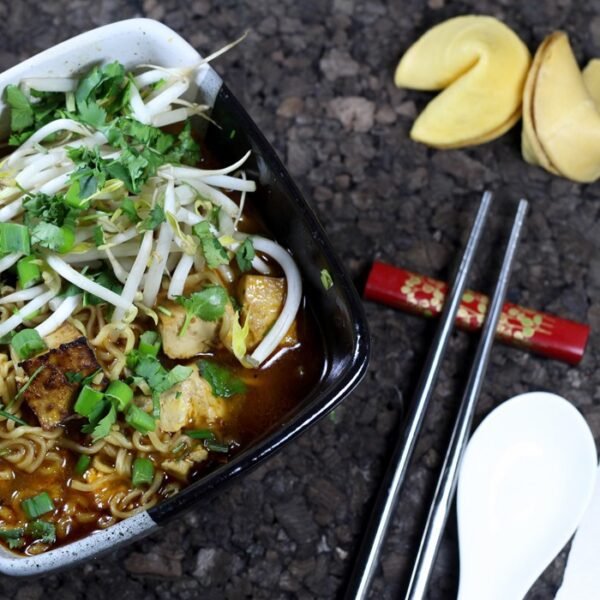 I really think you're going to love this soup. If you love the hot & sour flavors, you may want to up the lime juice & soy sauce to amp it up. If you don't like spice, feel free to reduce the sriracha.  And after you try this, make sure you let me know what you think! I really love to hear from you!!
******************
Questions for you:
What is your favorite soup?
Are you still in the soup phase, or moving on to spring flavors?