Two weekends ago, we hit two summer Colorado adventures while Laura was in town. Last week I covered our whitewater rafting trip on the Colorado River, which was Saturday's adventure. Today it's time to move to Sunday, when we hiked my second 14er, Quandry Peak! This was Laura's first 14er and Kirk's 3rd.
We chose this peak as it's in the group of "easier" 14ers and it's very close to Breckenridge. For the record, there's no such thing as easy, but it's easier relative to other 14ers. Breckenridge is easily my favorite weekend getaway and it was the perfect home base for our weekend adventures.
We started our hike around 9:30AM, which many will tell you is far too late for a 14er. I'm sure this will bite us at some point, but we didn't have any issues with the weather at all. I've been working on building my hiking strength with a backpack (after having to give everything to Kirk for our backcountry hut trip in April), so I carried my pack with the few supplies (mostly food) we needed for the hike. After building up on a few shorter hikes this year, I felt confident I was ready for the extra weight.
The hike starts off climbing through the woods with wildflowers and trees all around. It wasn't too crowded (probably due to our later start) and we were able to enjoy the scenery and take in the views around us. We stopped along the way when we needed, although never for more than a minute. After about an hour of hiking, the trail turned to rocks for most of the climb, so watching our footing took more attention. Nothing too extreme, but it did take some concentration as opposed to hiking on dirt.
After about an hour and forty-five minutes, the trail flattened out for a bit and you could see the final climb ahead of you. That's also when we noticed the mountain goats. Lots of them!
[Tweet "#Hiking Quandary Peak in #Colorado. #FitFluential"]
There was a whole family (or two?) of goats along this final part of the climb. They nimbly jumped from rock to rock as if it were nothing. They mostly ignored the crowds, although we were all enthralled by them. I think I took over 100 pictures on my phone alone. There was few times I think they felt cornered or too close and a quick stamp of their foot sent us running away.
We hiked past the goats and on to the summit around 12PM (total time for our ascent: 2:26), just in time for a picnic lunch at the top. The views over 14,000 feet are absolutely incredible. You can see so much around you and you realize how small you are in the grand scheme of things. We passed around our flask of scotch, while eating lunch and snacks and taking in the views. After about 30 minutes of photos, eating, and enjoying our accomplishment, we decided to start the descent.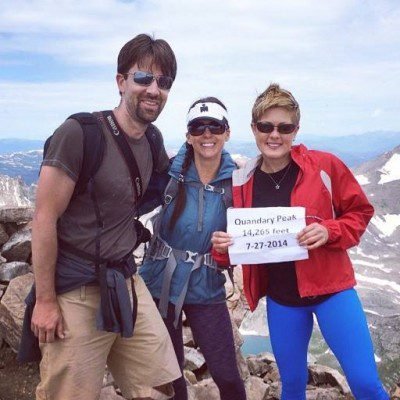 The hike down took a bit longer than I expected, as all those rocks made the descent a bit slow. It's a killer quad workout, which many people forget as they are climbing up. Much easier on the lungs than the way up, but equally challenging on the legs. We spent more time snapping photos of our mountain goat friends on the way down, since the skies were clear and we had nowhere to be for a while. Lots of talking and laughing to fill the hours. When we finally hit the car, we were all ready to refill with water and just sit down! I had no problem with the extra weight of my pack on this hike – I think I'm ready for another hut trip to really put it to the test.
By the way, Laura was a champ on this hike! You would have never known she doesn't live at elevation and powered through like a pro. All that training we do as competitors is much more functional than some people realize. It gives us the ability to go on crazy adventures on a whim and have the fitness we need to do it! This is actually the main reason I want to stay fit and healthy, my crazy goals help me make that happen.
Our total round-trip time for the climb was about 5:00, including our break at the top. Comparing this to my first 14er, I thought Quandary was the easier of the two. It is not as steep as Gray's, so it was more manageable to climb and I never felt like I wanted to give up. In fact, we barely stopped at all on this hike on the way up! It was a more technical climb with all the rocks, so that is a consideration if you're unsure of your footing. I think this is a great 14er for those visiting from lower elevations to tackle for a first 14er.
For more 14er adventures, check out my recap of hiking Gray's Peak last year. I'm headed back to the mountains with a friend on Saturday to tackle Mt Bierstadt, so stay tuned for that recap next week!
********************
Questions for you:
Have you ever seen a mountain goat?

If you could only do one – would you choose whitewater rafting or hiking a 14er?