I know I said I was done with vacation posts last week, but then I found this in my drafts folder…so how about one more post from Utah?!
High West Distillery & Saloon was the first legal Utah Distillery since the late 1800s. It's main location is in Park City, but they started in Salt Lake and still have a warehouse there. They distill all their Whiskey & Vodka on site in their Park City location.
We planned our trip to High West before we left Atlanta, as the previous year we had trouble getting reservations. We made dinner reservations for Tuesday night and Distillery tour reservations for Saturday afternoon.
Let's start with dinner:
How does one begin a dining experience at a Distillery & Saloon? With a tasting flight of Whiskey of course!
Unfortunately, they were not serving the "Evolution of a Whiskey" flight that week, but we were assured the High West 101 was the better choice anyway. The 21 Year Old was a more expensive shot, so it was worth the flight to taste that one.
Our waiter brought out the flight and walked us through a short description of each whiskey, waiting at the table as we tasted and commented each individually. Very personal service, although I think I might have preferred an overview and a more leisurely sipping time.
I admit that my knowledge of Whiskey is pretty limited, so it was very interesting to get more in-depth information and continue to deepen my understanding for the spirit. The whiskeys were fantastic – each one of the four I would order again. My favorite was the one he brought out after the flight…Bourye. Unfortunately, they are almost out of that whiskey – the Son of Bourye is the latest batch that replaces it. 
After our whiskey tasting, it was time to start thinking about dinner. The appetizers jumped out at me immediately – Shishito Peppers 2 Ways. I don't see shishito peppers on many menus, but it's an appetizer we enjoyed at a very memorable meal in Sonoma years ago. "2 Ways" referred to two different preparations of peppers – Ponzu Roasted & Whiskey Battered.
Umm…yes please!
They were both delicious, but I preferred the roasted as the flavor of the peppers really shined!
For our dinner drinks, we decided to try some of their signature mixed drinks. I got the Moscow Mule, which was served in the cute stainless glass you see below. It was okay, but way too much ginger beer and the whiskey was completely overpowered. Kirk's Old Fashioned was much better – guess I chose wrong!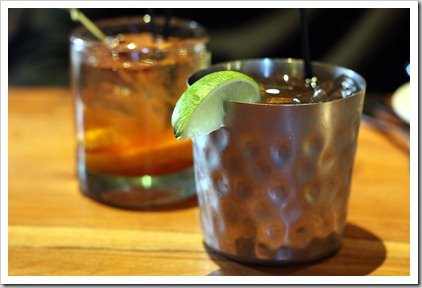 For my entrée, I was pleasantly surprised to see a section with Vegetarian items. I ordered 3 of the small plates: Shaved Brussels Sprouts with Chopped Hazelnuts and Roasted Garlic; Sautéed Asparagus, Roasted Pine Nuts, Roma Tomatoes, Olives and Basil; and Parsnips with Bourbon Basted Chestnuts.
I really wanted to love this, but it was just okay. The parsnips were bland, although much better when dipped in ketchup. The Asparagus was cooked really well, there just wasn't much to it. With some salt and pepper, the flavor improved immensely, but I'm always disappointed when that is needed. Did you season the food before you sent it out? The Brussel Sprouts were the best of the bunch – lots of flavor and very tasty. Although again, a little salt and pepper made it so much better.
The verdict: Great Whiskey; Average Food; and Hit-or-Miss Mixed drinks.
Back for the Distillery Tour
We scheduled the tour for our last day in Utah – our last activity before heading to the airport. It gave us something to look forward to on the usually sad last day of vacation.
Kirk bonded with a local bear on the way to the Distillery:
The distillery tour was really interesting – I didn't realize how similar to brewing the distilling process is. There are more steps (and you grind the grains), but the beginning of the process is nearly identical.
In the brewing room, they had this small-scale version of the distiller, that they test small batches on. This gives a good view to what the equipment looks like. It's like science class!
You think I'm kidding about science, but check out the chalkboard:
I have no idea what that says…
The master distiller was hard at work when we toured – now that's got to be a cool job! Although it's probably a lot more technical than I realize.
Anyway, we learned a lot and I didn't take notes, so I'm going to avoid butchering the process by leaving it a mystery for now. I need to take a few more distillery tours so I can retain all that information (and no, I wasn't even drinking on the tour!).
For now – here's some more pictures of the beautiful equipment.
The barrels on the wall show that the whiskey is aged in toasted American oak barrels – which is required to be called "Whiskey". I do remember something new!
At the end of our tour, we did enjoy a sample of whiskey we hadn't tried and their two vodkas. The second vodka was peach and uses organic peaches – must be a LOT of them, because it was too sweet for me!
The wood for the bar is made from a piece of the old railroad that was salvaged from the bottom of the Great Salt Lake.

And that officially (really) wraps up my visit to Utah! Really this time!
*************************
Questions for you:
Do you enjoy learning how things that you eat and drink are made?

What is one new thing you learned about this month?