It's goal setting season! I still have some work to do in finalizing my own goals, but I have several friends and clients who have their goals locked in and are into the detailed planning stages. Whether you're at the beginning or the end of goal setting for 2016, today I want to share a few resources to help you reach your health & fitness goals in the new year!
5 Resources for your Healthy Goals
Goal Setting Worksheet
One way to plan for big success in the coming year, is to break it down into 3 smaller changes each month. Making small changes is a proven & effective way to make those goals and resolutions stick. I created this free downloadable template to help you plan one small change in 3 key areas: fitness, nutrition, and spiritual. You can use this each month to focus on a new small goal in each area, to ladder up to you big goals for the coming year. Learn more & get the (FREE) worksheet. 
Run Club  – January Group
Are you looking for some guidance in training for your next race? Would you like the support of a community of people with similar goals to cheer you on, to keep you accountable, and share in your successes and struggles through training? Have you been considering a one-on-one run coach, but aren't quite ready right now? If any of these describe you – the virtual Run Club program was created for you!
Run Club brings together a group training program and online community to help you run further, faster, and stronger with less injuries! As a certified running coach and personal trainer, I wanted to create a group training community to help runners reach their goals at the 5K, 10K, half marathon, and marathon distances. And unlike many other running programs, all my training plans include strength training workouts (with video demonstrations of each exercise).
As a run club member, you will get a phone consult with me,  training plan for your goal, weekly check-ins, your own interactive calendar & training plan, and access to the private community.  Get all the info and register for the January 4th group.
Healthy Travel Tips 
I consider myself a pretty seasoned traveler. My mom was a travel agent when I was a growing up, so I am blessed to have grown up traveling all over the world.
Today, I typically travel quite a bit for work & have learned quite a few tricks to keep my healthy habits no matter where I am.  I prepped for my third bikini competition while traveling every other week, so believe me healthy living can be done when you're on the road.
If you feel like you take two steps backwards when you travel, these tips are for you. Get all the (FREE) tips here.
Start Clean 2016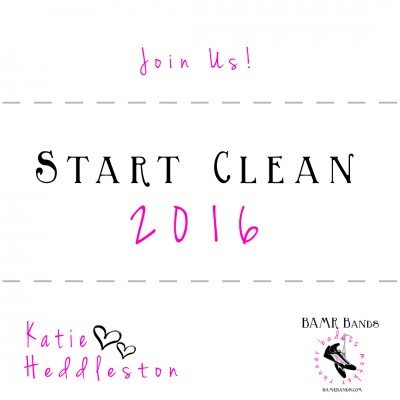 Nutrition and fitness are built on the foundation we set for ourselves, and sometimes that foundation gets a little unsteady. When that happens, it's time for a reset, and the Start Clean 2016 program will do exactly that! Katie is a registered dietitian who has created daily, obtainable tasks, to help guide you through a month long program in January, which will have you analyzing and learning why you make the certain food choices that you do.
In addition to the daily tasks and tips she will provide, you'll work on goal setting; receive an introduction to intuitive eating; receive an introduction to the plate method; review examples of non-scale victories, and SO much more!
If you sign up before December 25, you'll receive a non-slip fitness headband from her company, BAMR Bands + a three pack of hair ties. Get more information and sign up!
Race Season Planning
If you're planning some big race goals for 2016, it helps to have a solid plan for success. In running and triathlon, the best way to set yourself up for success is to create a prioritized and periodized race plan for the season. A good coach will work with you to create a comprehensive plan, but you can create this plan on your own with a little time, energy, and guidance.
I created this (FREE) 5-day video series to guide you through this process. This training will guide you through setting SMART goals, using those goals to create your perfect race schedule, learn how to build a periodized training schedule (and what that means), and then create your training plan in the free tool I use with my athletes. Sign up for this free virtual course. 
[Tweet "5 awesome resources to help you reach your fitness & #nutrition goals! #running #triathlon"]