Today I'm excited to introduce Lindsay Cotter, an awesome blog friend who spent the last few months living in New Zealand with her hubby, while he trained for Ironman New Zealand! She's also a gluten-free nutrition guru and the owner of Healthy Bites – which you'll here more about below. She's got a big heart and I have loved getting to know her online over the past few months – hopefully one day we'll get to meet in person! Okay, enough of me, let's let Lindsay do the talking!
*************************
Hello and welcome to Heather's blog! I'm excited to write for her today. One because she's just plain awesome, yes! And two because she is off on vacation and hopefully not on the computer. Haha. I'll be the sub for today… mmmm k?
My name is Lindsay Cotter and I blog over at Cotter Crunch. It's funny, my blog title and subtitle really do describe my life.  No lie… I'm a pro triathlete's wife, nutrition manager/fitness consultant, kombucha lover & wanna-be wino who has a joyous passion for GLUTEN FREE cooking!
Scold me now, yes, that one long RUN ON sentence.  Grammar is not my strongpoint. Haha.
Anyway, the main reason I blog is support my husband. We've created this dream together. A dream to pursue HIS professional triathlon career and I get to play wing man woman, or is it wing wife? Either way, I'm by his side.
I'd say my best support comes through food and fueling. I'm good at feeding that man, or so I like to think. 🙂
In an effort to help James (aka the hubs) fuel properly for pre and post workout, I started making him healthy bites. What are healthy Bites? Glad you asked.
Healthy Bites are my take on functional gluten free bite sized "ball" snacks. Each bite is made with natural, gluten-free and mostly organic ingredients.
What started off as a little healthy snack option for me and my husband has now turned into my own little business. I am passionate about it and want to share these bites with others…kids, athletes, on the go mom's, food allergy folks, and more! My mission is to make gluten free and process free food that actually tastes really good.
Sheesh, do I sound like an infomercial or what? Haha.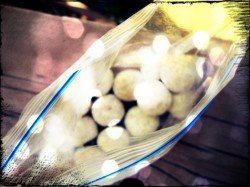 Anyway, today I wanted to share a favorite Healthy Bite recipe. You can see more on my site or in my BOOK of BITES eBook. Oh, and feel free to order some yourself. I finally ship! Well, I try to ship to most. Still working on shipping to china and Antarctica… JUST KIDDING!
CHERRY Crisp DELIGHT
Ingredients
2/3 cup dried cherries (you can use any dried berry really)
2 tbsp. crushed dried banana chips
1/3 cup crushed GF crispy cereal (I use Erewhon Berry Crisp)
2 heaping spoonful's of natural peanut butter
3 tbsp. agave nectar
35 grams strawberry protein powder
35 grams vanilla protein
Instructions
Grind up cherries in food processor. Makes sure you grind up the rest of your dry ingredients as well. Transfer into a large bowl and add in peanut butter and honey. Mix well, and then roll into balls/bites. Freeze right away then store in fridge or freezer to maintain freshness.
Well folks, that's all I got for now. I hope you get to make these. If so, please let me know how they turn out.
Thanks for letting me ramble today. I mean, that's what blogs are for right?
And Heather… please enjoy your vacation for me. Have a glass of wine and toast to DISCONNECTING!
Cheers,
LC
Lindsay Cotter