I don't know about you, but I love holidays. Any holiday really, as long as there's a good theme to sink your teeth into. Halloween is even better because you get to dress up in ridiculous clothes and it's completely okay.
I'm not going to a Halloween party anytime soon, so Kirk created a taco recipe that is

wicked

good!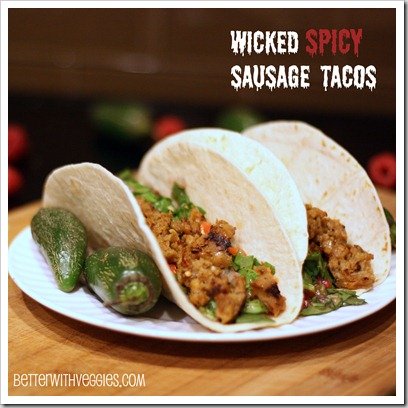 If you'd like to calm down the spice in this recipe, seed the jalapeno before chopping. For spice-lovers, the raspberries balance the spice and create a balanced blend of flavors with a spice the builds nicely as you eat.
Wicked Spicy Sausage Tacos
Author:
Ingredients
15 raspberries, divided
1 cup spinach
1/4 cup coconut milk
3 tablespoons honey (or agave), divided
2 teaspoons shallots, chopped
1 Fieldroast italian sausage, crumbled
1 jalapeno, chopped
cooking spray
2 flour tortillas
Instructions
Blend 10 raspberries with coconut milk & 2 tablespoons honey (or agave). Add spinach and remaining raspberries and stir to coat. Coarsely chop mixture.
Sauté crumbled sausage until warm.
Top tortillas with spinach mixture, shallots, jalapenos, and sausage. Drizzle remaining honey (agave) and serve!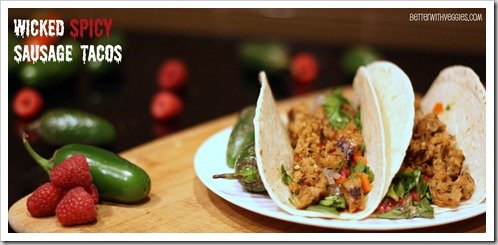 Whether you're having over a group to celebrate Halloween or just want a nice meal at home to enjoy, I've got you covered today!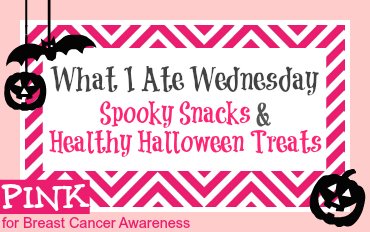 **Edited to add a link to this fabulous new link-up party hosted by Laura of Sprint 2 The Table! I've been told this is a strange combination of flavors, but that it's fantastic when finished (see the comments below for proof!). And make sure you stop by Laura's blog to see many more strange but good creations!
********************
Questions for you:
What Halloween treats have you found recently?
Are you hosting (or attending) a Halloween party this year?
What's your favorite taco filling?