We're a week in 2014 and many of us have created some sort of plan for the year. Some people chose a focus word, others set goals, others created resolutions, and some did a combination of these (like me!).
This year, I've been thinking a lot about the habits we develop. It seems to me that our habits have a great impact on our daily lives and may also impact our ability to reach these goals we set or ourselves (either positively or negatively). I want my habits to benefit my goals and I suspect you want that to!
What is a Habit?
According to Wikipedia, a habit is a routine of behavior that is repeated regularly and tends to occur subconsciously. It also references a 2010 study that habits take (on average) 66 days to form, instead of the 21 days I often hear. That meshes more with my own personal experience, as it seems to take me a while to really make something a habit I can stick with.
With that said, what habits do you want to cultivate and which habits do you want to break? These should be things that help to support your plans for the year. Over the next few weeks, I'm going to explore a few habits that apply across several areas of my life: Mental & Spiritual, Physical, Relationships, & Career. These are also areas that I have fleshed out some more specific goals that align to my focus of Joy.
(source)
Mental & Spiritual Habits
For me, these are the foundational habits of everything we do. What your brain (mental) thinks about and what your soul (spiritual) belongs to directs most of your life. There are a lot of studies about keeping your brain active to keep it sharp (especially as you age). Since I love to learn, these are habits that should be easier to cultivate.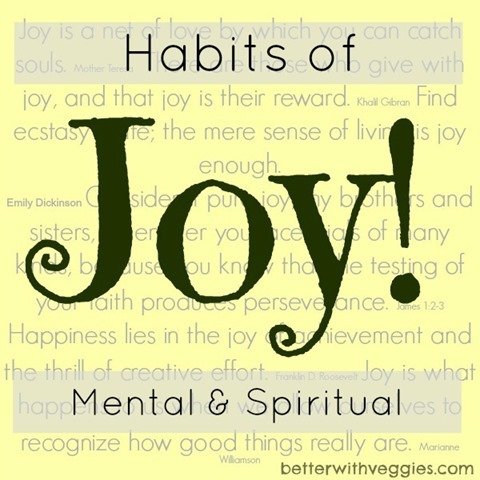 Mental
I love to learn and I want to nurture this habit! Learning gives me the opportunity to grow, mature, and expand my understanding in ways I haven't even thought of yet. It's why I became a running coach, then a multisport coach, and am now studying for my personal trainer certification. I just love to learn! My goal of earning my NASM Certification is aligned with this habit.
Outside of a formal education, I have the habit of reading. This is another great way to stimulate my brain (regardless of the genre) and learn about interesting topics (mainly nonfiction). Last year I didn't make as much time as I'd like for reading, so I will be working on this habit in 2014. It's time to be known as an avid reader again! I've made a goal to read 24 books this year to reinforce this habit.
Spiritual
I started really focusing on my spiritual habits several months ago, which I noticed my focus wasn't where I wanted it to be. When I neglect my spiritual habits, my attitude is impacted. That's why the habit I have chosen is start each day with my quiet time with God. I have an amazing spot in front of the fire at the dining room table where I pray, study my bible, and journal (a good spot makes ALL the difference!).
I'm not naturally a morning person, so this is a habit I've had to work hard on! I've used a lot of the same tips I use for morning workouts and it really has gotten easier. 'Plus, it's a rewarding and refreshing time, so that's pretty good motivation to stick with it. I have a goal to read through the bible chronologically (in the order event occurred) over the next two years to support this habit. I'm using this plan as a guide.
I hope this discussion of habits inspires you to think of the habits in your own life! If you enjoyed this post, use one of the buttons below to share it on your favorite social network!
******************
Questions for you:
What is one mental or spiritual habit you want to nurture or develop?
How was your first year of 2014?