On Wednesday night, I joined some of my Blends (Blogger + Friends) in Boulder for a Happy Hour hosted by GoodBelly! In case you don't know Colorado geography (which I didn't, until recently), I work south of the city & Boulder is north of the city. Although Denver traffic is not as bad as Atlanta traffic, it still meant a long ride in the car.
But hey, I was still smiling when I finally arrived into Boulder! Don't worry, this was taken at a stoplight.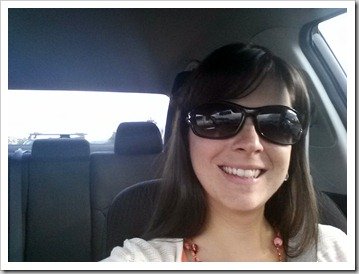 Lynne and I arrived at the Happy hour 2 hours after it started, but our hosts were very gracious and made us feel right at home. They took us straight to the GoodBelly mocktails that they prepared especially for the evening. Two had watermelon, which you might remember I hate. 🙂 I stayed with the two non-watermelon "tainted" varieties: Mango-Ginger Green Tea and Pomegranate Blackberry Lemonade. Both were delicious and it was just plain fun to drink probiotic mocktails!
Please excuse the sub-par photos, I didn't bring the good camera to Colorado.
It was great to get to meet & chat with a few Colorado bloggers I hadn't met before (Holly and Rebekah) and a few friends from Blend (Kim, Lynne, and Lena). Plus the lovely GoodBelly ladies who were so fun and easy to talk to!
The Extravaganza part of the title is the swag bag! First up, a 12-day supply of GoodBelly to take the challenge. 8 servings were already in the lunch bag, with coupons for the additional 4 servings. I started the challenge immediately, so I'll do a full product review after my 12 days is complete!
They also worked with other local Colorado businesses to fill up an awesome bag of goodies. The goodies included Cascadian Farm's granola, bulumu granola, Earth Balance Coconut & Peanut Spread, Justin's dark chocolate peanut butter cups & maple almond butter, Larabar Uber Bars, MMLocal High Desert Peppers, Celestial Sleepytime Kids & Sinus soother, and a Gaiam TV trial.
I learned a lot about the GoodBelly history and products, but I'll save that for when I do my review of the product. I did want to share that I was impressed to learn that all their products are vegan, something that is always exciting to learn!
The event was a lot of fun and well worth the traffic-jammed drive to Boulder. Stay tuned for my feedback on the 12-day trial!
*******************
Questions for you:
Have you tried GoodBelly before?

What would be the first treat you would try from the goody bag?