Taking pictures with animals can be challenging. They have no idea why you want them to sit "just so", without rolling over to have their belly rubbed, and looking at this little black box across the room.
And so they don't! They get up, walk around, knock you over, and do anything BUT sit still.
We put my new tripod to good use, setting the camera to take 10 pictures at a time, so we had time to try to adjust the dogs each round.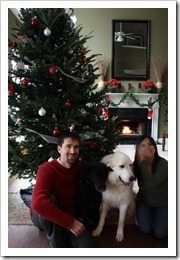 Or fix my hair after they wacked me in the head with their tails. Thank goodness I have a big SD card that can hold a lot of photos!
After wading through A LOT of photos – and doing a little editing – I finally have a picture that will work. I know Zurie still isn't looking at the camera and poor Abbott is hard to see, but it's the closest we got to a "perfect family photo".
Now to pick out a Christmas Card!
Did I mention it shouldn't cost a lot of money? No one was getting Christmas presents if we got this version. Next please!
Getting better – but still not quite what I'm looking for.
We have a winner!!
It's like a little "year in photos" for our family. Kirk's marathon in DC (see the White House in the background?), my Ironman Austria finish, Kirk's Ironman Germany (which is technically from 2010, but we didn't get our Christmas cards out last year), and our 2011 Family Portrait.
Since I can't afford to send a Christmas card to each of you, I hope you'll accept this digital version for 2011.
Merry Christmas to All!!
Question of the Day: Any drama in your Christmas photo-taking experience this year? Which do you think is more difficult to photograph – pets or children?
————————-
And now it's time to announce the winners of the Superfood Snacks giveaway!
Congratulations to Mattie & Jordan Dunne! Send me an email with your mailing address and I'll get it to Superfood Snacks for your prizes!
If you didn't win, I have a few more giveaways waiting in the wings – so come back soon!
————————-
Last, but not least, is my training recap from last week. Life got in the way of a few workouts last week, but I think family & friends win over training right now. it was also a recovery week in running, so less mileage was planned anyway.
It's not too long before training gets more important (read: January) as I really start to prepare for longer races.
Week of 12/12: Training Recap
Monday – Off/Relax
Tuesday – Oops – another off day, too busy to squeeze anything in.
Wednesday – Strength; 5 mile EZ Run (Run Club)
Thursday – 4 mile Maintenance Run
Friday – 30 minute Moderate bike (trainer)
Saturday – Peachtree Corners Christmas 10K – PR & 3RD Place in Age Group: 48:40 (official time)
Sunday – Off – another unplaned off day
How did your workouts go last week?