Happy Friday! I don't know about you, but I'm MORE than ready for the weekend. I know last weekend was technically a long weekend, but with all the travel and wedding festivities, I didn't fit in much relaxation. I'm ready for some fun in my own state this weekend! And I get to meet this girl tonight – a recent Colorado addition!
But before we start the weekend, I thought I'd finally do another review of Stitch Fix! Since my original review in early May, I've had two boxes that I want to share with you – the first (box 4) from the end of May, the second (box 5) from this week.
First is my 4th Stitch Fix box
I got this box just before vacation, so we quickly shot some photos before getting back to preparations.
What did I keep? Get your mental votes ready….
1 – Yep!! This shirt looks awesome layered under a jacket at work or a sweater on cool evenings. Or by itself, actually!
2 – This sweater doesn't look amazing in the photo, but I promise it's great in person. Maybe a little long for my height, but I love it too much to care. The colors, the pattern, and the texture of this shirt are amazing.
3 – Love, Love, Love these earrings!! I have worn these a million times already.
4 – I had a hard time deciding on this sweater, but ultimately decided I have too many stripes right now and it wasn't my absolute favorite.
5 – I'm not going to sugar-coat it; this skirt was AWEFUL! Eifel towers on a terrible cut skirt…wow. I don't know what anyone was thinking with this one.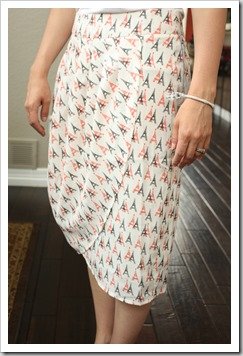 Next up is my 5th Stitch Fix box
I scheduled this one to arrive my first full day back in Colorado – something to look forward to as life got back to normal. I actually got the "shipped" email in Atlanta and was so excited.
What would you have kept? Before I tell you what I decided, I have to say this was one of my favorite boxes. I got 3 tops, a necklace, and a dress. I loved getting so many tops this month – it was a fun change of pace!
1 – I think this picture shows how AWESOME this top is! The cut is incredibly flattering, it's a color I don't wear often, and the studs make it look like I'm almost wearing a long necklace. I love this, one of my new favorite tops!
2 – I really like this top, but it's even better layered! I wore this to work today layered under the shirt my sister got us to wear on the morning of her wedding (embroidered with my initials – very southern!) and with the pearls I wore in the wedding. I was pretty excited about how I styled this one.
3 – I actually really liked this necklace, I was so excited when I opened the box. Unfortunately, I have nothing in my closet that matched (other than a white shirt), so I decided not to keep it this time. A little sad actually!
4 – You can tell from the picture, but this shirt was just too boxy for me. It was so cute in the styling photos, but not flattering on me. I wish it had some shape at the waist, so I sent this one back too.
5 – Such a great dress! This is so comfortable, airy, and flattering. As you saw on Instagram earlier this week, I paired it with a pair of brown heels & brown belt for work on Wednesday. I like this dress because I can wear it either to work or on the weekend!
If you're keeping score – that's 3 out of 5 in each box. That seems to be typical for me and it's a pretty good percentage for me. I am absolutely in love with Stitchfix and had to restrain myself from ordering a second box this month. My next "fix" is scheduled for August 2nd!!
If you're thinking of getting your own Stitch Fix, do it!! And use my link, so that I can get more Stitch Fix credits and feed my addiction. Hey, I'm honest, right?!  As I said in my original review, this is not a budget clothes program, but it's a great way to get quality clothes that you probably wouldn't have found on your own. Especially great for those of us who hate to shop, but love to look good!
********************
Questions for you:
Would you have made the same choices I did or something different?

What is your favorite piece of clothing in your closet right now?