When it's cold outside – do you take a break from running? Winter running drives many people indoors for the season, and although the treadmill can be a great training tool, it shouldn't be your winter prison. Outdoor running in the winter can be refreshing and beautiful, if you're wearing the right gear.
And the basis for proper winter running gear? It's all about layers!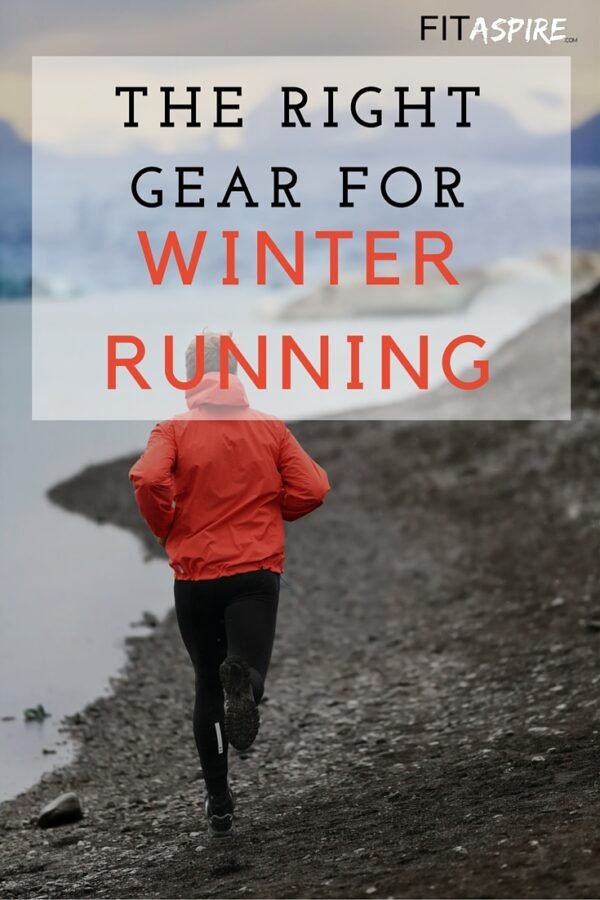 I really put these tips to the test last week during the Resolution Run 5K in Breckenridge. The race temps ranged from the high single digits to the low teens & the course was a snowy trail around the river.
The Right Layers for Winter Running
We're going to work our way from head to toe and talk about the layers you need to make winter running a more comfortable experience. The number of layers you need depends on the temperature – check the What to Wear calculator on Runner's World.
Head Protection
Although you don't actually lose more heat through your head (just an old wive's tale), you still want to keep it covered to keep that extra heat from escaping.
Ear Warmers
My ears are one of the first things to get cold, so ear warmers are great to keep in your closet for days that are more "in-between" temperatures. I recently bought these cozy ear warmers from BAMR Bands which are AMAZING for those days where I don't need the coverate of a hat. Bonus: it fits nicely under a helmet for skiing/snowboarding, as well!
Hats & Beanies
Once the temperature really drops (or for dark winter runs when it feels colder), I pull out a hat. I have one hat that I purchased for skiing over 10 years ago that I wear on the really cold runs – a wool hat lined with fleece. Of course, you may want a more breathable, single-layer hat when it's nice quite that cold outside.
Technical Base Layer
You might save a little money with cotton, but the drawbacks outweigh those savings pretty quickly. Invest in technical fabrics and a good sports detergent (which will keep those fabrics smelling fresh) to make winter running most comfortable.
Long-Sleeve Shirt
If you've ever run in a long sleeve shirt, you probably ended that run sweaty and feeling heavier from that wet shirt hanging on your back. At that wet shirt will get cold fast, when the wind hits it. A technical fabric is meant to wick the sweat away from your body without hanging on to it. Most fitness apparel uses this type of fabric now, so you have plenty of options to choose from.
Tights
Some people seem to wear shorts year-round regardless of the temperature, but I am not one of those people. When it's cold out, I want as little skin exposed as possible. I look for tights that have a pocket (for stashing a car key) and can be pulled down over my ankles. If you're into compression for performance, invest in a pair of full compression tights to really take advantage of the cold weather. In my recent race, I layered two pairs of tights to add an extra layer of warmth.
Windblocking Outerwear
Running Jacket
An additional layer of warmth, which also helps regulate temperature, is a running jacket. A full jacket is great when you know the temperature is going to stay pretty chilly. If you start heating up, just unzip the jacket to let some cool air in. Another option is a convertible jacket, which gives you the options to remove the sleeves (usually with zippers or magnets) if you start to warm up. I especially like this option, as it gives you that added option of just running in a vest from the start!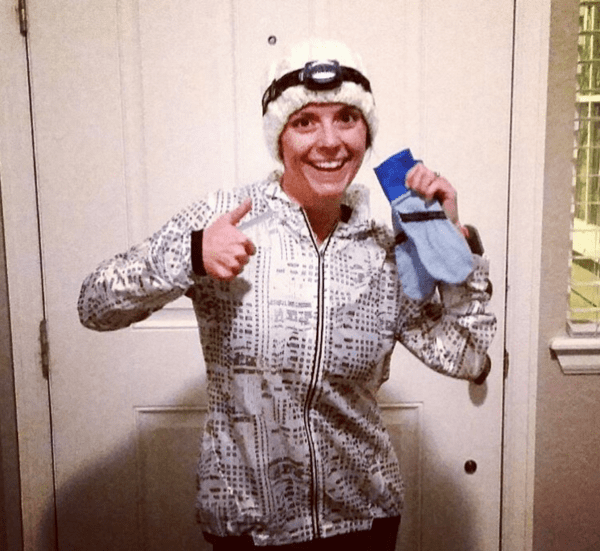 Hand Protection
Gloves and mittens for running can be a tricky thing. For some people, their hands are always cold on a winter run and others strip off their gloves quickly. I recommend starting in gloves on cold runs, because you can always tuck them in a pocket or your waistband as you heat up.
I look for gloves or mittens that are touchscreen compatible, so I can still capture photos along the way (without getting cold). If you're very cold-natured, look for mittens for the most warmth. Other than that, I have run in both cotton and technical fabrics and don't notice as much a difference there — although the tech fabrics are usually less bulky for tucking in a pocket.
Foot Protection
Full Coverage Socks
I typically wear no-show socks to the gym and in the warmer months, but in the winter I don't want any skin exposed. I have several pairs of higher profile socks specifically for outdoor runs. You might also try compression socks for extra support (and extra coverage).
Shoe Traction
If you live in an area where winter runs are snowy or icy, extra traction is an important for comfort and safety. The lowest cost option is to add screws to the soles of your shoes. This costs only a few dollars, but does relegate those shoes to slippery runs.
My preference is to purchase a set of Yaktrax (or similar traction options) that I can slide on and off my shoes. This means I haven't ruined a pair of shoes for other purposes and I can any pair of running shoes.
[Tweet "Choose the right layers to make winter #running comfortable! #fitfluential"]
Hopefully these winter running gear tips help you prepare for the coldest & snowiest of winter days. Remember that you don't want to head out for a run feeling too warm & cozy. You will warm up once you start running, so aim for feeling a little chilly when you walk out the door for best results.
Before you go, check out my tips for running in the dark to complement these winter running tips.
Editors Note: This post was originally published in November 2012 and has been revamped and updated for accuracy and the latest information.