I'm praying hard and thinking positive to get through these last few weeks of running before the Marine Corps Marathon. I thought this fun running survey would be a good way to shift from away from "complaining Heather" earlier this week. Today is about the FUN of running! =)
I saw this survey on Banana Buzzbomb and I saved it for the perfect occasion – which happens to be today!
1. Best run ever: This is a really hard question for me. I've had the opportunity to run in some pretty amazing places, including: Antelope Island (Utah), Venice (Italy), San Francisco, Klagenfurt (Austria)…it's so hard to pick just one. Can I pick all of the above?!
2. Three words that describe my running: Empowering, Powerful, Free. I may not feel that all the time right now, but it's definitely what I feel about running normally!
3. My go-to running outfit is a SkirtSports running skirt, sleeveless or short sleeve technical shirt (no favorite right now), Moving Comfort Sports Bra, Zensah Compression Calf Sleeves, Swiftwick running socks, and Saucony ProGrid Guide 5 shoes.
4. Quirky habit while running: I'm not sure if I have one of these, Kirk couldn't think of one either and he runs with me more often than anyone else. Any readers who've I've run with who can help me with this one?
5. Morning, midday, evening: Late morning is my ideal time. Getting a chance to sleep in, sip on a latte, relax in bed or on the porch…a slow start to the day. Then after I'm relaxed and fully awake – a run! That's my perfect timing.
But, in a normal situation, I'd rather run in the morning and get it off my plate! 😉
6. I won't run outside when it's icy or cold + rain. I don't mind really cold, LOVE running in the snow, I'll suffer through heat (and complain), and thoroughly enjoy a warm & rainy run. Does this question remind you of the Post Office motto at all? 😉
7. Worst injury—and how I got over it: Stress Fracture in my right tibia. That sucked. It hurt, I missed a marathon, and no running for weeks. A slow climb back out from this injury with a walking regimen and then trying to rebuild my endurance.
It was a hard injury to deal with, but I learned a lot about listening to my body and learning when you should back off and stop to prevent an injury!
8. I felt most like a badass mother runner: When I finished my first 50K earlier this year. Wow, that feels like a lifetime ago! But seriously, that was an amazing race and I will get my running mojo back and become a more accomplished ultra-marathoner in the future.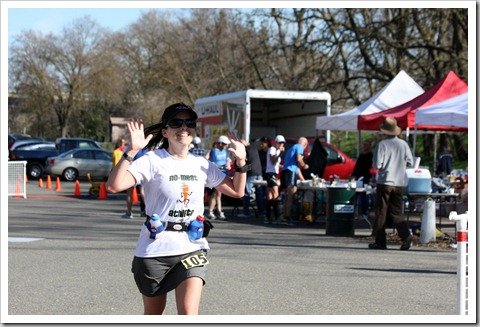 9. Next race is: The Marine Corps Marathon. I'm thinking this race is going to require a tutu. I wish I had a Better With Veggies shirt to wear with it!
10. Potential running goal for 2013: The big race for 2013 is Ironman Cairns, which of course ends with a marathon. The rest of the year is TBD – it's all about Ironman for me.
I almost forgot to share that I had an un-sucky run last night! Nothing too long or amazing, but 6 miles with 3 miles of intervals. And it didn't suck! Every decent run is a HUGE blessing right now, it reminds me that this is something I love and it will be fun again. 🙂
********************
 Questions for you:
Add the two digits of your age together and answer the question that goes with that number in the comments!