Happy Friday Friends!! I've been having fun with some new running stuff recently and I think it's time to share some of my finds with you.
First, I've been doing a good job getting more trail runs in since my last race + fall a few weeks ago. Last night I went for a 7.5 – 8 mile run around Leita Thompson park and had a blast! I gave myself an option of 2 or 3 loops and actually opted for 3 loops. Fitness funk be gone!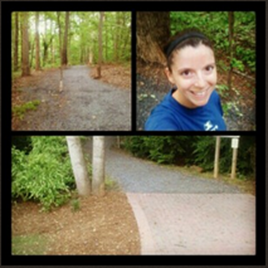 Montrail Masochist
I've been getting used to these Montrail Masochist trail running shoes. If nothing else, I feel like I'm more surefooted in real trail shoes and they are very comfortable. The arch support is lower than I really need for my high arches, so I'll be slipping my SofSole Arch+ insoles into these shoes before tomorrow's race.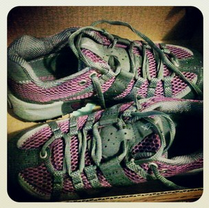 Yes – I have another trail race tomorrow! It's supposed to be a beginner friendly race, so hopefully I can stay on my feet for the entire 5.5 miles. It's a little funny that my goal is to stay upright instead of run a certain pace. 🙂
Garmin Forerunner
Speaking of pacing, I am loving my new Garmin. Although the GPS is still not perfect on trails, there several other features I love over my old one.
So why is the Forerunner 310xt so awesome?
Vibration option, in addition to the normal audio time/distance indicators. So even if you miss the noise due to traffic or talking, you feel it!
It's smaller! The face is about the same, but the unit doesn't continue down your wrist.
It's syncs to my computer when I walk in the door, instead of having to plug in and upload.
It's waterproof, although I won't really use this feature until next year when I train for another triathlon.
A great upgrade and certainly worth the extra money!!
Ignite Naturals
And finally, I have another all-natural, vegan, nutrition option to share with you! Ignite Naturals contacted me to try out their Reload Energy Gel and I was excited to try out another gel option to share with you guys.
What's in the energy gels? Lots of all natural ingredients! What's not in these energy gels? Animal products and artificial ingredients!
Take a look at this list:
(source)
I wanted to test these out in circumstances that I've had nutrition issues before, so it took me longer to test these than I expected. I tried these out two different long runs and last night's trail run. The trail run was important, because my HR goes through the roof on hills – the perfect setup for stomach issues for me. Long runs gave me a chance to see how the gels sit over a longer period of time.
So how did it work with my sensitive tummy?
No troubles at all! I was nervous about trying something new on my runs, but my worries were for nothing.
BUT…
The texture is very gel-like, similar to many of the standard gels on the market. I also didn't love the combination of berry & date, it was a much stronger date flavor then I expected.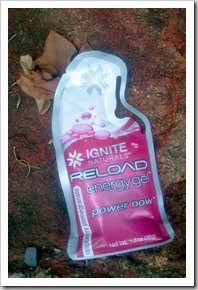 I personally prefer the texture of my Vega gels, but I know several people weren't a fan of the texture of those. I think this a great alternative for those who prefer the smoother "gel-ly" texture for their runs, but still want a gel without the artificial ingredients that fill most other options.
Before I let you go, just a couple quick announcements:
Did you know I completely updated my About page and my Couch to Ironman series? Check it out! 🙂
If you're a blogger, did you catch my guest post on Vlogging on Healthy Living Blogs yesterday?
And now it's time to get practice my balance and visualize running the entire race without falling tomorrow!
********************
Questions for you:
What has been your favorite workout of the week?

What do you have planned for this weekend?