This a been a strangely good week of running. Strange because I haven't wanted to run, but good because once I started I felt awesome. In fact, I have gone longer and even done core work after my runs. Now I just need to change my mindset before my runs so I'm excited about starting running too! =)
Speaking of running, I've seen this fitness survey on Running With Tongs and Carrots N Cake recently and loved it! So today, I'm sharing my responses with you!
Five Fitness Things I Can't Live Without:
Running. Obviously.
Arm Warmers. The perfect in-between weather gear!
Bike Trainer. My movie theater chair in the winter.
Race Schedule = Motivation
Lock Laces. I don't understand how people still wear shoelaces. 🙂
Most Embarrassing Song I Listen to While Working Out:
I usually listen to audiobooks when I work out, but other than that the Lady Gaga album is a good "keep pushing" soundtrack – not really embarrassing though.
I have a Pandora station based on Selena Gomez (which I used for my pace intervals on Wednesday) – I don't think it's really embarrassing, but probably not normal for most people. 🙂
Favorite Pre-Workout Snack or Meal:
My pre-race standard is usually a Peanut Butter & Jelly sandwich or bagel – nothing too exciting here.
I also like dates stuffed with PB & Chia (thanks to Nada's recent suggestion) or toast with Nooch & Walnut Oil before training workouts.
On My Fitness Bucket List:
Run an Ultramarathon (hoping to run the Charolotte 50K in February)
Run a marathon in all 50 states (5 down, 45 to go!)
Qualify for & run the Boston Marathon
Snowboarding in the Alps
Must Have Tech Tools:
Garmin Forerunner
Excel (for training planning)
Powermeter for cycling
Computer or Smartphone for logging my workouts
Top Exercise Gear:
RoadID Sport Elite
Zensah Calf Sleeves & CEP Compression Socks
SkirtSports Marathon Girl Skirt
Motivational Mantras:
Stop thinking….just run!
Just Keep Swimming (in Dori's voice, of course!)
I can do all things through Christ who gives me strength (paraphrased)
"The only one who can tell you 'you can't' is you. And you don't have to listen" – Nike
Favorite Cardio Exercise:
Running
Cycling
Snowboarding
Favorite Strength Moves:
What are your answers to the Fitness Survey? Leave your own answers on your blog or leave your responses in the comments!
Dinner
I had another meal planned for dinner last night, but was craving nachos when I got home. Kirk thought that was a good idea too – so yummy nacho dinner was created!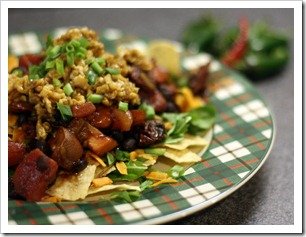 This pile of deliciousness included tortilla chops, Vegan Gourmet Nacho Cheese, diced heirloom plum tomatoes, black beans, chipotle peppers, diced peppers, maple syrup, steamed tempeh marinated in teriyaki & bragg's aminos, and chopped green onions. Did I mention it was fabulous comfort food?! =)