Today is my last day on the slopes, which means I'm not really back. I didn't want to miss out on this month's Foodie Penpals, so I'm just stopping by to share my awesome box of goodies from Chelsea from Sarcastically Me.
Wondering why I called this a double March reveal? You'll have to keep reading to the end to find out!
One of the fun things about Foodie Penpals is the handwritten note from your partner – check out the cute stationary!
It's always awesome how much everyone puts into their boxes, Chelsea did an awesome job finding vegan yummies to share with me!!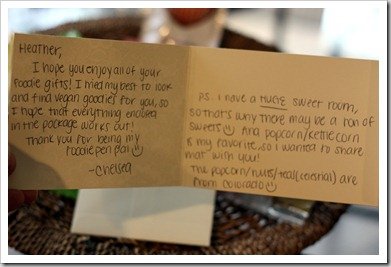 And she really packed the box full – look at all these treats! I've been eating them since the middle of the month and I still have more to enjoy.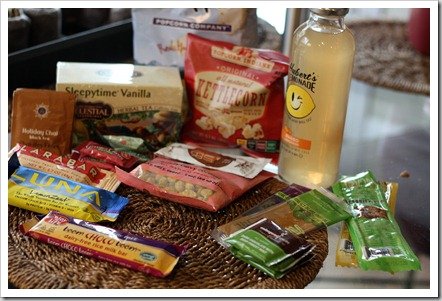 Let's see if I can cover everything in my box this month. Butter flavored popcorn, Chai tea, Sleepytime Vanilla tea, Kettlecorn, and Lemonade are just the start! My favorite so far from this set is the Chai tea (I LOVE chai). We enjoyed munching on the kettlecorn on the flight out to Utah – it was great not having to buy travel food. 🙂
Next up, Larabar Peanut Butter Cookie, Luna Lemon Zest, and Boom Choco Boom! The Larabar is my fav from this set so far, although I still need to sample that Boom Choco Boom bar. There are also 4 Ginger chews and Endangered Species Dark Chocolate Squares. I have so say I love chocolate squares, it's portion-controlled chocolate indulgence!
But wait, there's more! Last, but certainly not least, there were 2 flavors of Primal Strips, Curry Coconut Nuts, Fruit Leather, and Justin's Hazelnut Butter. I admit those primal strips were the first things to go – I love those things!!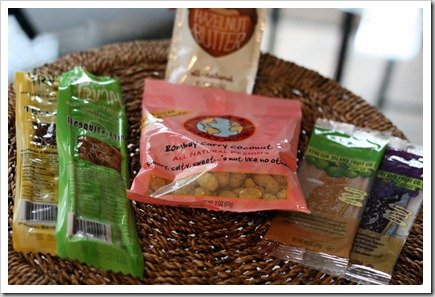 Thank you SO MUCH to Chelsea for such an amazing box of treats this month. It's so much fun getting to try new things and I really appreciated the variety of airplane friends treats you included!!
****************************
Now that you've seen all the treats that I received in March, it's time to see what I sent this month! My penpal this month is Kelly – she's a reader and has put together a guest post to share the box that I sent to her!
I may have gotten a little carried away at Trader Joe's, as you'll see in her post below…:)
****************************
I was so excited to get my second Foodie Penpals box and Heather's picks for me did not disappoint!   I let her know that I preferred healthy snacks and all of her choices were perfect.  The goodies included a lot of Trader Joe product that I haven't tried, but since I frequent TJ's I am happy I can shop for them again.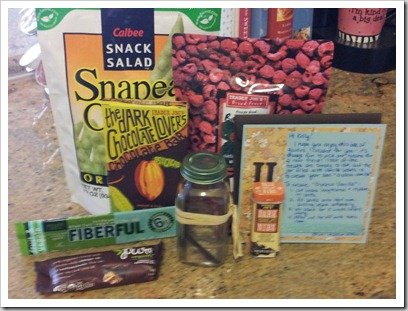 Now onto the goods…Heather included freeze dried raspberries which I liked (have only tried apples before this), Snappea Crisps which are yummy and a great alternative to chips or crackers when I want something crunchy, a TJ Fiberful Fruit and Veggie bar, similar to fruit leather with a serving of fruit and veg, TJ dark chocolate lovers bar (had a piece with a glass of red wine!) and cacao nibs as well as a Pure organic brownie bar which I have yet to try but am excited that Heather included so much for my chocolate fix! 
The most interesting part was 2 vanilla beans in a little glass jar and instructions for endless vanilla,  I am making it today and am so excited to put it to use.  Her note was on lovely homemade stationary.  Thank you Heather for an amazing box of goodies!
*********************************
And now it's time for some details about Foodie Penpals.  In case you're a new reader, here's a reminder of what the program is all about:
On the 5th of every month, you will receive your penpal pairing via email. It will be your responsibility to contact your penpal and get their mailing address and any other information you might need like allergies or dietary restrictions.
You will have until the 15th of the month to put your box of goodies in the mail. On the last day of the month, you will post about the goodies you received from your penpal!
The boxes are to be filled with fun foodie things, local food items or even homemade treats! The spending limit is $15. The box must also include something written. This can be anything from a note explaining what's in the box, to a fun recipe…use your imagination!
You are responsible for figuring out the best way to ship your items depending on their size and how fragile they are. (Don't forget about flat rate boxes!)
Foodie Penpals is open to blog readers as well as bloggers. If you're a reader and you get paired with a blogger, you are to write a short guest post for your penpal to post on their blog about what you received. If two readers are paired together, neither needs to worry about writing a post for that month.
Foodie Penplas is open to US & Canadian residents.  Please note, Canadian Residents will be paired with other Canadians only. We've determined things might get too slow and backed up if we're trying to send foods through customs across the border from US to Canada and vice versa. So, I'm going to keep two separate lists and match US w/ US and Canada w/ Canada!
If you're interested in participating for April, please CLICK HERE to fill out the participation form and read the terms and conditions.
You must submit your information by April 4th as pairings will be emailed on April 5th!
*********************************
Whew – that was a LONG post today!
Questions for you:
What is your favorite airplane treat?

What is the best treat that you ate this week?

Do you ski or snowboard?