I'm so excited to announce that we're (finally) ready to reopen applications for online coaching! In addition to the online coaching for triathlon and running that we are best known for, we now also offer online personal training. This is one of the services most requested over the past few years, so it's exciting to be able to add that to our coaching services!
Why Online Coaching?
Since the beginning, I have always intended to offer personal training in an online environment. Why? Because it's the style I prefer and that I choose for myself. In addition, there are three other big reasons that online coaching makes the most sense to me:
Great Value
Individual training sessions in any sport are expensive, which means many people can only afford 1-2 sessions per week. This frequency does not allow you maintain a fitness level, let alone improve. Online coaching offers a significant value and allows you to benefit from expert guidance in your workout plan to reach your goals.
You Don't Work Around Your Trainer's Schedule
Most good coaches are in high demand, which means finding time to train with them can be tricky. You end up working around their schedule, instead of finding a time that works best in your schedule. Online coaching removes this problem and allows you to schedule your training when it works best for you. The best time to train is the time that works in your schedule – because you'll do it!
Accountability & Motivation
Even for those that know what to do, having someone to keep you accountable can make all the difference. Your coach watches for your to log your workouts (using Trainerize) and knows when you've skipped a day. And when you need that extra push to get to the gym, they are there to help encourage you to get it done.
[Tweet "Thought about online coaching? Applications now open for @FITaspire Training! #FitFluential"]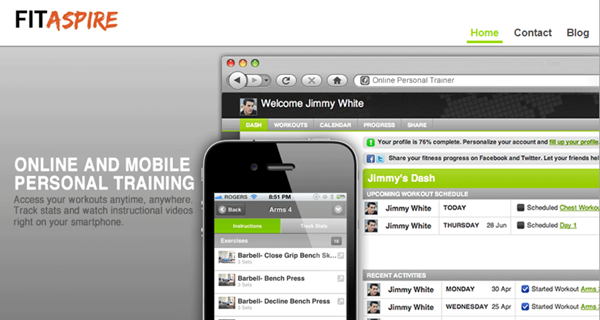 Limited Availability
It's very important to both Kirk & I to provide top quality online coaching. To make sure that remains the case, I am accepting only 5 3 new athletes into the personal training program at this time. Once the spaces are filled, I'll update the coaching page to let you know.
Of course, we are also accepting triathlon and running athletes, so there's a training plan that fit's your goals! We work with athletes of all levels:
Getting back into a workout program
Improving your fitness with structured strength and cardio workouts
Running your first 5K
Training for your first marathon
Improving your Half Ironman time
Tackling your first or 10th Ironman
Visit the Coaching tab to read more about How Online Coaching Works and view Training Plan options.
*********************
Questions for you:
Have you tried online coaching in the past (or currently)?
What is your favorite – swim, bike, run, or lift?