It's been quite a while since I shared some of my favorite products with you. But I'm coming back with a (blue) splash today to share some of the things I'm loving this month.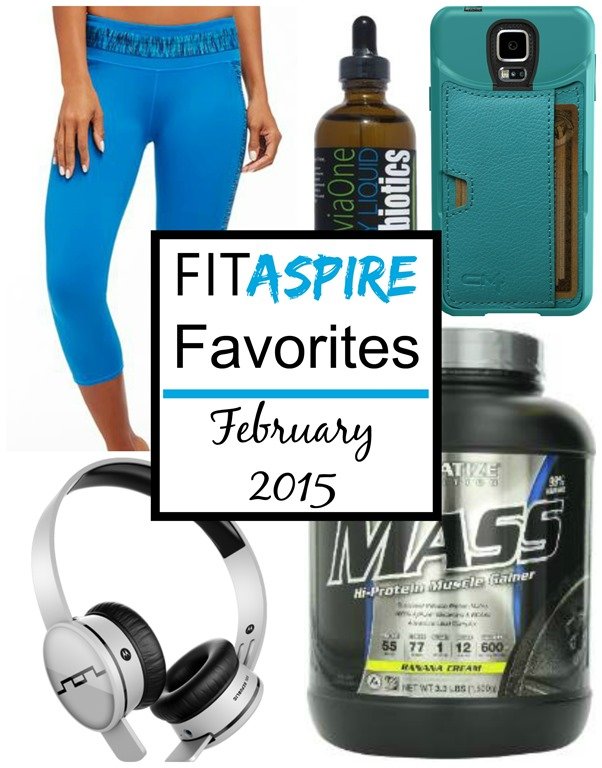 This is a combination of things that I've purchased myself and things I've been given the opportunity to review, but all things that I use personally and love! This month I'm featuring quite the mix of items – from dietary supplements to gym gear to digital accessories. It's a pretty good sampling of my life, actually!
Disclaimer: Some of the links below are affiliate links and I will earn a  small commission if you purchase through those links. I also received a few of these products for review, which I have noted in the description. As always, I only share things that I would recommend to my family and friends. You can read my disclosure policy here.
FITaspire Favorites: February
(Top left)  I've been a fan of Fabletics for almost a year now and my closet is overflowing with their gear. I'm so lucky to work with them and am lucky to receive 2 pieces to wear and share each month. When I post post-workout pics, there's always a good chance at least one item I'm wearing is Fabletics! This month I went with COLOR and absolutely love the bombay blue color. I always rip out the tag immediately, it's the only part that's less than comfortable. Get your first Fabletics outfit for only $25 with my link.
(Top middle)  When I started eating meat again early last year, I added probiotics to my supplement routine. I initially added probiotics to help my body re-acclimating to digesting animal protein. I kept it in my routine as I feel it keeps things running smoothly. A little gut support. When LiviaOne offered me the chance to try their liquid probiotics, I was curious on how it would compare to my typical pill format. After a month, it seems to work equally well and I really like the convenience of the liquid. 4 drops in a shot of water in the morning goes down easily! Come back tomorrow to learn more and your chance to win a bottle of your own to try!
(Top right)  One of the perks of starting a new job? A new phone! I upgraded to the Samsung Galaxy 5 (I think this is my 3rd Galaxy version). I'm a heavy user of my smartphone and decided to invest in a wallet cover to make it even more functional. During the week, I've been keeping my gym card in the card pocket – never leave home without it! On the weekend, I've been leaving my wallet at home, carrying my id and credit card with me in the pocket. The color I chose (and in the photo) is Pacific Green, in case you like it.
[Tweet "Some great products you might want to try, incl #fitgear, supplements, and tech accessories."]
Remember my quest to grow my shoulders? That means I'm currently in my first real bulking season. It was fun for about the first day, then I was just miserably full most of the time. After struggling to get all my calories in for the first month with whole foods, it was time for a back-up plan. My trainer recommended Dymatize to replace my snacks and help me fit in more calories with good macro proportions. And it's working!! It's much easier for me to hit my calorie targets and it tastes pretty darn delicious. I just restocked with more and I'm trying the Cookies & Cream flavor. This is a great supplement for anyone trying to build muscle and get in more calories!
I always saw people at the gym with over-the-ear headphones and wondered what the big deal was. The in-ear headphones are so much smaller and seemed to work just fine to me. When I was offered the chance to test out these Tracks Air headphones, I decided it was time to see what the fuss was about. Although I still like in-ear headphones for endurance activities, I get it now. Great sound, very comfortable, and the battery life is amazing! Over 14 hours of playing time on one charge – a great feature for this forgetful girl. My only complaint is that occasionally I can only hear out of one ear, although it seems to correct itself within a minute or two.  You can check out all the details on these headphones on the Sol Republic website.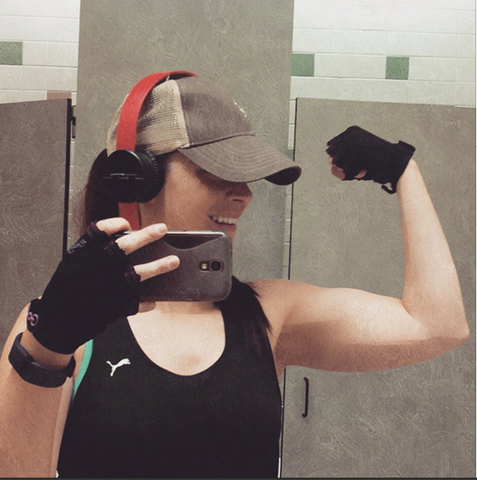 This is my second pair of bluetooth headphones and I would have a hard time going back to wired at this point. It's freeing to be able to walk away to do an exercise without being tethered to another device.
*******************
Questions for you:
What products are you loving this month?

Do you have a favorite headphone style for the gym? In-ear or over-the-ear?