We're taking a little break from recipes this week, because I finally finished my Fall Bucket list! I love this idea and really enjoyed seeing what others had planned on their summer and fall bucket list. I've been been writing down ideas as I thought of them for a few weeks and I'm finally ready to share my list!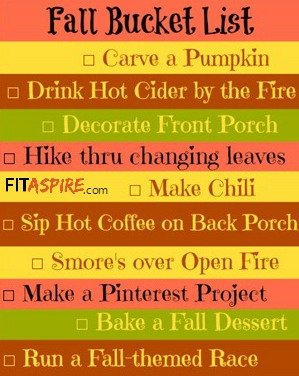 I think this is a pretty good mix of stuff, although heavy on food and drink perhaps. I just kept thinking of food things that sounded like Fall! Here's a breakdown of the list:
Food & Drink
Fitness
Fun
I'm looking forward to spending some quality time with my hubby checking these items off my list over the next few months. My goal is to finish this list by the end of November, just in time for a Christmas bucket list (not that I'm already thinking about Christmas or anything…).
********************
Questions for you: