A few months ago, I was contacted by Fabletics, a fitness apparel brand, to try a few outfits and share my opinion. The first time they reached out, I had just finished spring cleaning my workout clothes and passed on the opportunity. When they reached a second time, there were a few new things that caught my eye and I decided to give them a try. After putting the new gear though a pretty extensive trial period – including duathlon & run races, lifting, hiking, running – I'm more than ready to share my review with you today!
The concept behind Fabletics is similar to other fitness apparel companies I've seen. You sign up to become a member, which allows you to choose an outfit each month for a discounted price (most around $49.95).
What's difference about Fabletics is you DON'T have to get an outfit each month! You can review the options each month and choose to skip any month you don't want to purchase. I really like that no obligation process, especially for those who don't want to commit to that purchase every month.
Fabletics is a collaboration between an online apparel company and Kate Hudson, with the goal of delivery high-performance athletic wear at an affordable price. The main benefits of membership in their VIP program are:
up to 40% off the retail price of outfits
20% off individual pieces
free shipping on purchases over $49.95
easy returns/exchanges
Every month, you'll get personalized outfit recommendations on the 1st. Then, you have until the 5th to decide to make a purchase or skip the month. [Tweet "Have you heard of @Fabletics? Check out this review from @FITaspire. #FitFluential #FitGear"]
What Did I Think of Fabletics Apparel?
I tried out the Ayni sports bra immediately – which I got in black & pink. They come with molded (removeable) cups that make this a pretty flattering fit. And despite the spaghetti straps, they actually support me quite well! I have gone down a cup size since I started competing in bikini, so my opinions are based on a B cup. When these are clean, they are the first sports bra I have been reaching for recently.
Next I tried the Kumo tank, with the black sports bra layered underneath. I really like the fit of this tank, as it's fitted without being tight. There is a waist seam that falls perfectly on my waist, where the fabric flares out just slightly below. While that is very flattering most of the time, it can bunch there when going from seated to standing, which creates an odd lump until I pull it down. I'm always conscious of my tummy, so it's just something I notice more than most probably would. Did you notice the back? It has an open "ladder" pattern that is very unique – I love details like this in a top!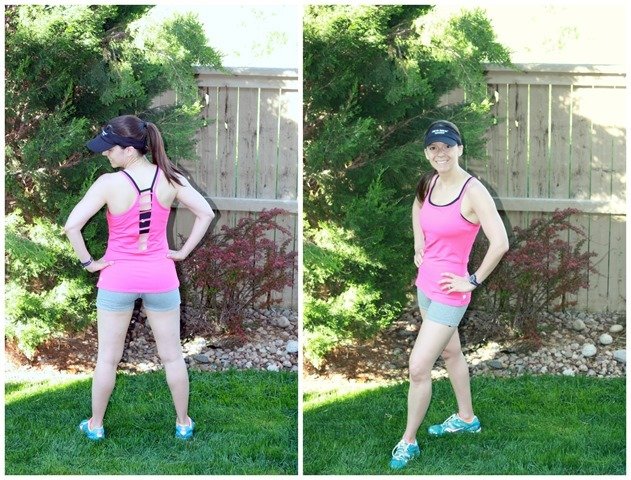 Top: Komo Tank, Ayni Sports Bra; Bottom: Dili Shorts
On the bottom in the picture above is the main reason I decided to give Fabletics a try – shorts! I have a million pairs of capris, but had no fitted shorts. I was getting hot in the gym and these caught my attention. These Dili shorts have a shorter inseam than I am used to, but they are so comfortable! I do find that I pull them down more than normal, because I do get self-conscious in them. If you are comfortable in a shorter inseam, these are a great choice, as they fit comfortably when I stop thinking about the length.
Although I really wanted shorts, I couldn't pass up dark grey capris (something to go with all my bright tops!). The Linda capris were perfect for our hike at the Maroon Bells a few weeks ago. They are a slightly thicker fabric than some of my other options, which makes them a tad warmer than some others I own. The neutral color means you can wear it with your brightest tops!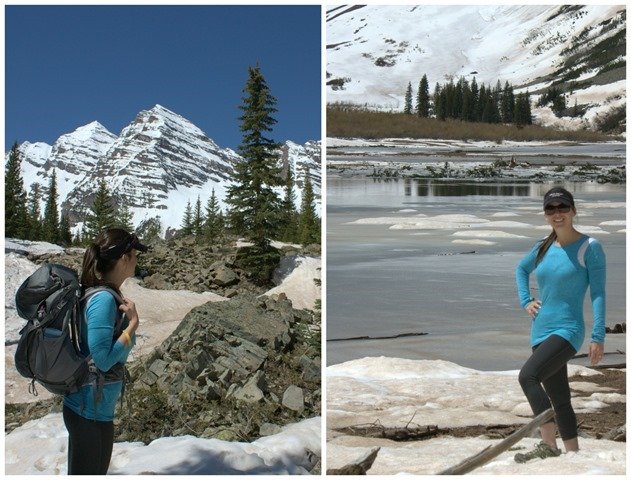 Bottom: Linda Capris
Finally, I had to get another pair of bright bottoms! The Moto Shorts are a bit longer (which I like!) and who can pass up the fun color. Of the two shorts, these are my favorite! I have a feeling I'll be pulling these out of the closet quite often this summer to wear for many of my workouts.
The only trouble I had with Fabletics was figuring out my sizing at the beginning. As usual, I didn't do a good job reading the size chart and went with what sizes I thought I wore. I estimated too large with the bottoms and it took a few tries to get me in a size that actually fit. That does give me the chance to tell you the exchange process really is quick & easy. No complaints at all in that department. Just read the size chart and trust what it says to avoid more exchanges than necessary!
[Tweet "Great #Fitness gear that is functional, affordable and cute. Full @Fabletics review. #FitFluential"]
Overall, I can easily recommend Fabletics for cute and functional fitness apparel. I really put them to the test in my adventures recently and they passed with flying colors. If you're looking for some new gear, check out their VIP program for a flexible option with great perks.
Disclaimer: I received the Fabletics apparel reviewed above in exchange for an honest review. There are also affiliate links throughout this post that I get a small comission when you sign up for the Fabletics program.  As always, all opinions are my own and I only share things that I would recommend to my friends and family. You can read my disclosure policy here.
*******************
Questions for you:
Are you wearing more shorts or pants/capris to workout right now?

Have you ever broken "the rules" and raced in new fitness gear? I

t's a good thing that sports bra had good support, since I hadn't tried it before my duathlon!