What's small and green and smells kinda funky?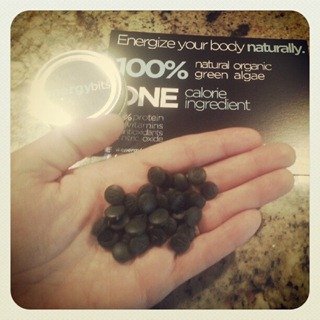 ENERGYbits® — 100% Spirulina algae. They were created to give enduring energy, are 64% (plant-based) protein, and intended for anyone who needs an energy boost.
According to their website the benefits include:
Increasing Energy
Increasing Endurance
Increasing Mental Vitality
High Protein Snack
Curbing Hunger
Meal Replacement
Balancing Blood Sugar
Lowering Blood Pressure
Reducing Fatigue
And did I mention they are 100% vegan, organic, non GMO, kosher and gluten free?!
With claims like that, I obviously jumped at the opportunity to try them out. A natural edge is something I would love to find!
I tried them on two different types of workouts.
Test #1
The first was a 4 mile run with a strength training session sandwiched between. It was on a night was feeling pretty exhausted after work, so a little extra energy would be great.
The result: First 3 miles felt pretty average, had a great strength training session, and a killer last mile back to the house. I also had loads of energy after the workout – it was a great feeling! So was it a fluke or was it the ENERGYbits?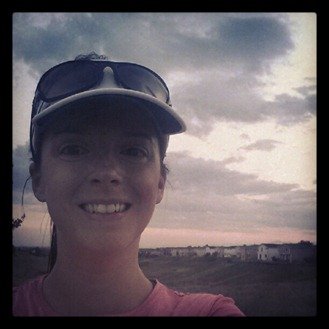 Test #2
I saved the second test until the weekend – my long run of 14 miles. I was hoping that this test would go really well and I'd have a fabulous long run (something I haven't had in a long time).
The Result: I was pretty tired starting out, so I could tell I had a little extra energy that helped me to keep pushing. It wasn't quite the magic bullet I had hoped for this time, as I still took a few more walk breaks than I'd like. I had plenty of energy for the rest of the day though!
Verdict
Honestly, it's hard to tell from just two tests. I felt like it REALLY made a difference on that first workout and a small difference on the second test. Those were both positive results, but not overwhelming. Enough that it's piqued my interest and it would be interesting to try out more.
The price is a limiting factor for this product. It's sold in packs of 1000, which breaks down to a decent price of $3.48 per 30 piece serving, but it's a lot to bite off all at once.
Would I buy it? I'm torn. I wish you could buy it in smaller quantities to make it easier to work into the budget and allow experiences with the sprirulina and training.
So a bit of a hung verdict, but if it's something you can fit in your budget I would recommend giving it a try. There are so many benefits from Spirulina beyond any training performance benefits, there's really no downside if you can afford it.
To find out more about this product, you can find ENERGYbits on twitter, facebook, or their website.
*******************
Questions for you:
Have you tried ENERGYbits? I'd love to hear your experience!

What is your favorite training supplement?