This past weekend was a good weekend! It was a nice mix of running, biking, and hanging out with friends – exactly what I needed!
Week of 12/5: Training Recap
First, I thought I'd give a quick training recap of the past week. This is new, so let me know if you like it or don't really care to read about my training schedule. It's been a debate in my head for a few weeks!
Monday – Off/Relax
Tuesday – Strength; 30 minute EZ bike (trainer) – my first ride in about 3 months!!
Wednesday – 6.5 mile Pace Run; mix of 5K & 10K intervals
Thursday – 5.3 mile Maintenance Run
Friday –

Strength

Oops – missed this session
Saturday – 18 mile Long Run; Core (see video below – originally found of Kristin's site)
Sunday – 40 minute Moderate bike (trainer); 3.2 mile Maintenance Run
What went well: I completed all my scheduled running & biking workouts – yay me! 
What needs improvement: No yoga at all! I had a Christmas party this weekend the same time as Hot Yoga, so that didn't work out. I also missed one strength workout. Need to be more focused on strength & yoga.
Atlanta Underground Market
On Saturday night, I met up with Laura, Carol, and Traci to check out the Atlanta Underground Market. This was a great event, apparently modeled after the Undergound Markets in San Francisco and Oakland. Here's a bit more info about the Market from the website:
There are a lot of home cooks and food artisans in Atlanta,  who have awesome dishes to share, but who don't have the platform to do so outside of their circle of friends. And we're not talking your average fried chicken or hot dogs, but real gourmet slow food, that you may not be able to get anywhere else, whether meat centric dishes, vegetarian or vegan food.
I wasn't sure what to expect, but when the email came out the day before the event, the list of food options looked fantastic. AND each vendor had labels to designate if they had gluten-free, vegetarian, and/or vegan options available. This was my kind of place – I didn't have to play 20 questions to enjoy a night of great food!
At the front of the market, these lovely ladies were serving up Japanese Eggplant with sweet-Miso topped with Kimchee & pickled cucumber. Fantastic!
Next up was a slew of desserts. While not on purpose, this meant I was not too full to sample the sweets, so I think it was a good plan!
From Dr Sweet's, I tried the Chocolate-Black Pepper Cookies. They were good, but I wanted the black pepper flavor to stand out a bit more. I think upping the pepper in this recipe would make them stand out.
Next I found these Coconut Lime Yucca cookies. Following the rich chocolate cookies was not the best order, but after a few bites the light flavor of these cookies came out.
These Green Tea-Pomegranate Cupcakes were delicious! You can barely see the pomegranate in the center of the cupcake, but it tasted fantastic! Light, fluffy, and the combination of green tea & pomegranate flavors was amazing. I wish I had gotten an extra of these to bring home.
Almost moving on from desserts, I had a Philippine Tea (similar to Bubble Tea) called Sago't Gulaman. It was filled with tapioca balls and grass jelly squares – sweeter than bubble tree and very fun to drink (loved the textures)!
Finally moving on to some savory treats, this Eggplant Crostini from Ciao Bucca was next. The arugula is overwhelming the plate, but all that green was just what I wanted. The eggplant mixture could have had a bit more spice for me (maybe garlic?), but still tasty!
From Kushina Catering, I loved the Ethiopean Veggie Balls and Vegetable Samosas. I had to grab a second batch to bring home for Kirk!
The instant I saw the sign for vegetable samosas I thought of Phineas & Ferb, didn't you?
Phineas & Ferb: Vegetable Samosa
We apparently saved the best for last, as we enjoyed these Venezuelan GF AREPA (Roasted Butternnut Squash, caramelized Swiss Chard, & black beans). This is one of those foods that tastes much better than it looks, it was amazing! That red sauce you see covering the beans was some homemade spicy concoction and it was also amazing!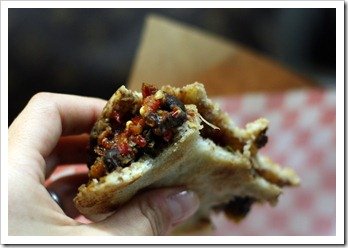 To recap, that was Japanese, Philippine, Italian, Ethiopian, & Venezuelan dishes all under one roof! I think everyone left stuffed & happy – I'll be heading back again for sure. The next event is on January 7th, so mark your calendar now if you're in the Atlanta area!