As we're in the home stretch of this competition prep, my diet is actually getting a little more restrictive. No changes to the amount of food or macros, but my protein sources have been limited. Starting last Friday, my choices were narrowed down to egg whites and low-sodium white fish (and one serving of protein powder per day). While it certainly hinders my creativity, the problem is more that it bothered my stomach!
I finished Friday extremely bloated and with a stomach ache. I talked to my trainer and she suggested something that works for her – drinking my pasteurized egg whites raw. What?! She assured me it doesn't taste slimy (as I would think) and has very little flavor. I figured it was worth a try, so I drank all my egg whites on Saturday.
It actually helped, but I was still pretty bloated by the evening. On Sunday, I got permission to add seitan back to my diet (very similar in protein & sodium to egg whites, but with a few carbs). I only eat it when I'm already scheduled for carbs – and yes, I'm still drinking some of my egg whites. I shake the whites in a blender bottle and it really is relatively tasteless.
So what do my meals look like now?
I'm joining Jenn's weekly foodie party again this week to show you what I'm eating just two weeks out from the big show.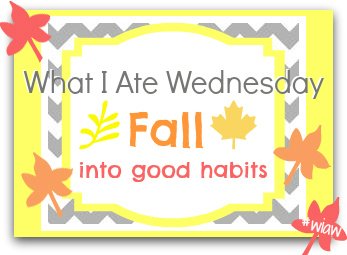 Don't forget to pop over to her place after reading this post to see what other fun goodies others have eaten this week (always a great source of inspiration!).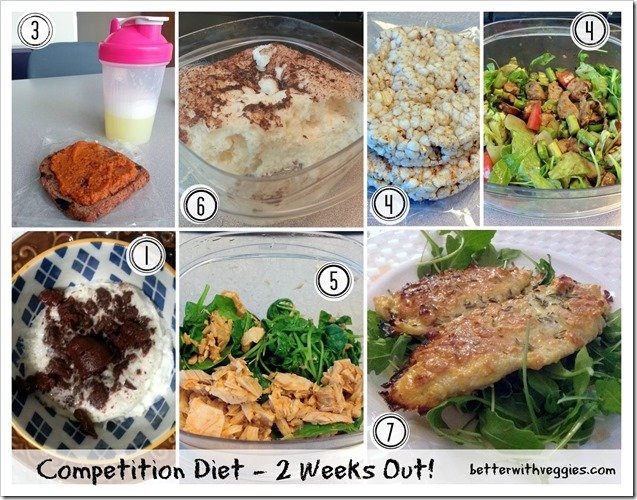 Egg Whites with Autumn Spice Almond Butter
Vega Shake (unpictured) made with vanilla Vega Protein Powder, Silk Almond Milk, kale, & mixed berries
Raw Egg Whites; Pumpkin mash over Ezekiel Cinnamon Raisin Toast. **This is so good!!
2 Cinnamon Raison rice cakes; Big salad made with seitan, tomatoes, mushrooms, arugula, romaine and dressing from MCT Oil & Balsamic Vinegar.
Sweet & Spicy Tuna Salad over Arugula
Sweet Egg Whites
Broiled Dover Sole with crusted cashews ***Wow – Kirk did such a good job on this quick dinner. Will make again and share the recipe!
Now that you've seen what I'm currently eating, I want to share something I WISH I was eating!
********************
Disclaimer: I am an affiliate for the Christmas Dessert Freedom cookbook, so I will earn a commission if you purchase through the links below. I only promote products that I believe in and would recommend to any of my friends. As always, all opinions are my own. You can read my disclosure policy here.
Christmas Dessert Freedom Cookbook
One of the things I love to do when I bake (which is NOT my specialty) is making things as allergy-friendly & special diet-friendly as possible. That can be tricky to do, to get the flavors and textures to be what you remember. That's why I was so excited when I heard about Leanne's (from Healthful Pursuit's) latest cookbook!
There are three things that I really love about this:
It's all dessert recipes!! Let's be real, I haven't had a lot of desserts over the past few months, so these had me drooling immediately!
All these recipes are paleo, vegan, gluten-free, all-around good-for-you, & allergy-friendly!
It's Christmas!! While it's too early to decorate, I can absolutely start to think about all the Christmas goodies I want to eat. I have my eye on these Cocoa Caramel Bars that I think would be great for Thanksgiving too!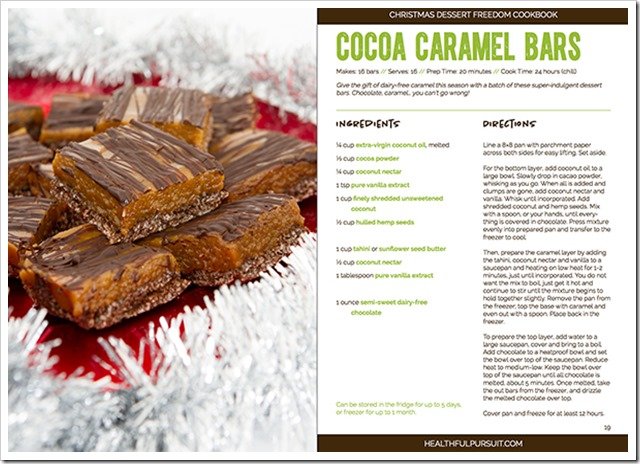 The cookbook is filled with ten healthy dessert recipes for a guilt-free Christmas. Dessert treats like Tiramisu, Peppermint Patties, Shortbread, No bake Pecan Pie Bars, Peppermint Bark, Rum Balls, & Gingersnaps.
If these sound as good to you as they do to me, you can get your own copy for only $10.
********************
Questions for you:
What is one type of protein you could eat over, and over, and over/

What is your favorite dessert treat?