Did you see this survey on Brittany's blog earlier this week? Or maybe this one or this one? I love completing surveys almost as much as I love reading others' answers. So let's get to it – This or That?
1.  Run/workout in the heat and humidity or freezing temps and snow?
Freezing temps and snow!! I've only gotten to run in the snow a few times, but I'm hoping I have more opportunities this year. I hate the heat and humidity, I was never shy about that. 🙂
2. Have washboard abs or flat abs?
I remember those – and no I don't have either. 🙂 I love the look of both, I'm not picky.
3. Dr. Oz or The Doctors?
Neither – people watch that stuff? I just don't have time. 🙂
4. Cardio or strength?
Both! I've been enjoying combining running and strength now that the gym is 1 mile from our house – running to the gym, strength, and running home from the gym feels hard-core. 🙂
5. Cravings: Protein or carbs?
Hmm…my cravings are usually WAY more specific. Like nut butter s'mores, wine, beer, tofu scramble, sushi, risotto.
6. Jillian Michaels or Bob Harper?
Right now I'm digging Jillian Michaels – really enjoying Making the Cut. Seeing some muscles peaking through after less than 3 weeks! 🙂
7. Frozen Yogurt or Ice Cream?
So Delicious Peanut Butter Swirl "Ice Cream". Heck Yea!
8. To train: Upper body or Lower body?
For strength, I like upper body moves the best right now, even though I'm still a bit of a weakling. 🙂
9. Protein powder or food with protein?
I get most of my protein from real food, but also love my Vega Protein Powder.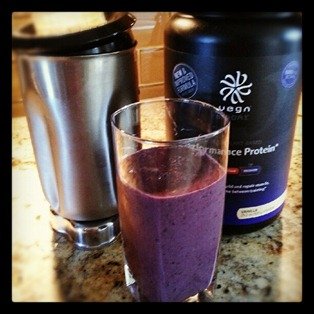 10. Lunges or squats?
Squats – especially surrender squats. Such a good workout and really hits the muscles in a different way.
11. Sweet or salty?
Salt and Vinegar chips, Salt and Vinegar popcorn, yep..salty is my favorite!
12. Workout attire: cute or comfy?
Haha…I realized today that I don't really own cute workout attire. I haven't gotten anything new in ages and everything is a little…worn out. Anyone want to send me cute stuff?! 😉
13. Body Pump or Heavy lifting?
I've never taken Body Pump and not sure what I do qualifies at Heavy Lifting. I think I'd be more into Heavy Lifting though, I'm just not that into classes.
14. Yoga or Pilates?
Pilates, when I can afford it. I have very fond memories of Pilates on the Reformer at Life Time Fitness. When I did my first Ironman, it was hard to fit into my schedule and I had to stop. Then I stopped working for Life Time and it wasn't quite as accessible. I'd love to get back into it – that was when I felt the strongest.
15. Nike or Adidas?
I own more Nike, Lunarglides were my favorite short distance running shoes for ages. I don't own any Nike gear right now though (see my comment on no cute workout clothes).
16. Running on the treadmill or outdoors?
Usually outdoors, but I appreciate the treadmill. I'm using the treadmill for pace training right now, since I'm still trying to get myself used to the altitude and hills in my neighborhood. It's also a great tool in bad weather! The treadmill is a great tool, but I do love the scenery and adventure of the outdoors.
17. Whole Foods or Trader Joe's?
Whole Foods, hands down. I like to get all my shopping done in one place and that's not possible for me at Trader Joe's. Whole Foods has such amazing variety, organic options, GMO-free, and an amazing hot bar. I'm a HUGE fan – we even mapped out the distance to Whole Foods from prospective houses when we were house-hunting. We're only 2 miles away now – it's awesome.
18. Summer or Winter Olympics?
I think I actually prefer the Winter Olympics, but I enjoy both. I haven't watched as much as I expected though.
19. Exercises classes or Exercise videos?
If I was going to pick another group exercise, I would want to hit another bootcamp – preferably led by Lindsay and Tina(Blend Reunion, anyone?!).
20. Steamed veggies or roasted veggies?
If I have to pick one – roasted veggies with something spicy. It brings out more of the flavor.
 ********************
Don't forget that Monday is the second week of Meatless Monday from A-Z, with the featured ingredient of Beets. I have beets in the fridge, but still not sure what I'm making, so you have plenty of time to come up with something for Monday. The only rules are the recipes should: no meat (including fish) and include the key ingredient. Easy right?!
You can see full details about the concept here, and grab the image for your post on Monday on the right sidebar. I was thrilled with the response to the first week and even more excited to see what amazing treats you share this week!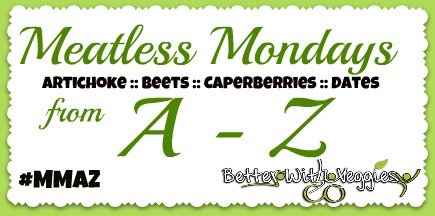 ********************
Question for you :
Take your age, add the two numbers together, and answer that question in the comments.
Now double the number above, double it, and answer that question too. =)